A Wigan tattoo studio has raised over £3000 for the families of the victims of the Manchester Arena attack.
Alchemy Tattoo Studio on Wallgate are offering Manchester worker bee tattoos for £22, representing the date of the attack, with all money raised going to support the families of victims.
Since they started the appeal on Facebook yesterday morning, the studio's manager James Davies estimates that they have inked almost 100 people with the iconic design.
The offer will run until Thursday, although the studio has been inundated with requests to continue beyond then.
"Yesterday morning we came up with this idea as a way of showing our love and respect for everyone affected by what happened on Monday night," Mr Davies told MM.
"Within the hour people were queuing out the door and down the road. People have been donating a lot of money, more than just £22.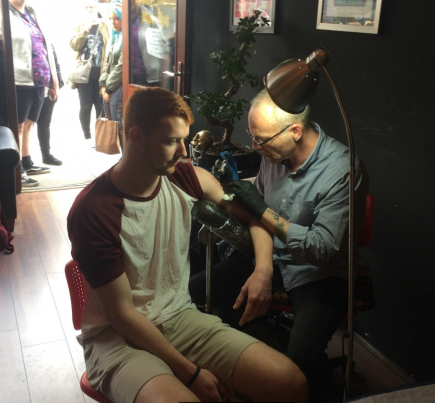 'OVERWHELMING': Artists are working for free at Alchemy Tattoo Studio, who have raised more than £3,000 for the families of victims in the Manchester Arena suicide attack  
"The response we have had has been overwhelming. It's absolutely terrible what happened but things like this bring everybody together.
"We've got three artists working for nothing to do this. We have cleared all the appointments we had until Friday, which everybody has been completely supportive of."
The demand for the tattoo has been so high that the studio was even beginning to run out of stock when MM visited, although Mr Davies insisted that more was on its way as we spoke.
Kimberley Collins, a nurse who lives in Warrington but works in Manchester, was one of those queuing around the block to take up the offer.
"I wanted to come and get one of these tattoos to show solidarity with everybody in Manchester," said Ms Collins.
"Getting the worker bee tattoo is just something that the younger generation can do to show their support for the victims. I felt I had to do my bit.
"It's something I can explain to my grandchildren in years to come. I have several tattoos but there is a story behind this one."
A number of tattoo studios across Greater Manchester have since started a similar appeal, including an online appeal launched by Stalybridge-based artist Sam Barber.
There have also been reports that other cities around the UK have joined in to offer their support.
Although Alchemy will resume with their normal bookings on Friday, Davies was keen to stress that they will continue doing the worker bee tattoo for people, however, they will have to join the normal waiting list.
Alchemy hit the headlines earlier this month when Take Me Out host Paddy McGuinness revealed he was getting a leg tattoo done there.
The worker bee symbol has been associated with Manchester since the Industrial Revolution, and can be found in various locations across the city. The bee is said to represent the hard work of Mancunians, and the fact that the city was renowned as 'a hive of activity' during the 1800s.