A Manchester-based ex-offenders scheme has been shortlisted for a national award celebrating its high success rate in rehabilitating former prisoners.
Gate Buddies are all former offenders who are trained to assist people just leaving prison, acting as their mentor to provide the necessary support to prevent them re-offending.
The scheme was started by Riverside's English Churches Housing Group, which is known for providing housing for the homeless, and has been nominated for a Meeting Specialist Housing Needs Award in the UK Housing Awards 2015 in London on April 21.
Layla Allen, Riverside's Gate Buddies Volunteer Co-ordinator, told MM: "If someone has been in prison and has successfully come through the other side, we believe that they have become incredibly valuable 'experts by experience'.
"They can assist other ex-prisoners to put their lives back together as they provide positive and aspirational role models."
MM spoke to Jacqualine Martin, 46, who works as a Gate Buddy after struggling with drug addiction for over 30 years.
She wished that the scheme had been about longer after having a positive impact on her life.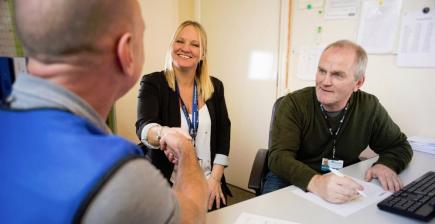 A NEW START: Gate Buddies assist ex-offenders who have left prison
"If Gate Buddies had been around a long time ago I might not have gone through the system so many times, she said.
"In prison you are so vulnerable and speaking to someone every week who has been through the same thing gives you that glimmer of hope that you can get through it too."
Gate Buddies go into prisons before an offender is released to talk through any fears they may have about re-entering society.
They meet them at the gate as they leave prison, help them adjust to their new accommodation, and catch up with them regularly to ensure the transition is as smooth as possible.
Jacqualine first became hooked to drugs as a teenager and found herself stealing to support the habit before she took an even darker turn and resorted to prostitution.
She said: "I started on heroine, then cocaine and this led me on to crack. I also had issues with alcohol and pills.
"Recovery is a two-way street, you're helping someone grow but at the same you're still growing yourself and learning who you are without drugs."
The 46-year-old also has some advice for anyone who may be struggling with addiction.
"Everything is in your hands, you need to stop yourself from going any further down that path or you'll end up screwed.
"An addict speaking to an addict can get real, they know exactly what they've been through and can talk to them on their level."
The mother-of-four was approached to join the scheme last May while in rehab and revealed how difficult the process was.
"A big part of admitting you need help is hitting rock bottom and sometimes it can take a while to get there," she said.
"You come to realise that what you're doing isn't working, that all those years of taking drugs has isolated you from everyone around you, that you've got nothing and nobody.
"You have to teach them that who they are on drugs isn't who they really are, that they are loving, caring and intelligent.
"It's not something that happens overnight, you don't just plant a seed and the next day it's a tree, you have to give it time to grow."
Jacqualine felt that the scheme has helped her grow as a person, reminding her of the goodness within her, while helping her lose some of the more confrontational traits she gained in prison.
She said: "I'm less self-centred than I once was and I've let go of the big ego and attitude that kept me safe, but was always just a front.
"I'll never forget who I was and where I came from but I know I don't want to go back to that again, I like who I am now."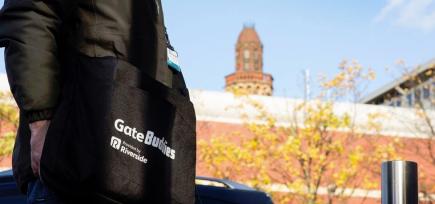 BEYOND THE PRISON BARS: A Gate Buddy outside Strangeways prison 
When asked how long she would continue to work with Gate Buddies, Jacqualine stated she would stay with them 'as long as they needed her'.
"As long as there is someone out there who needs my help, who I can plant that seed with, then I will be there to help them."
Jacqualine believes that the project should grow to become a nationwide scheme, it just requires other prisons to get involved.
"People don't engage in it enough, there isn't anything around that engages with prisoners on the same level.
"But as long as people can commit to change and they have the passion to really work hard for it then they can be helped, everyone should have the chance to better themselves."
Gate Buddies has already begun to develop in other areas, with HMP Risley in Cheshire adopting the scheme on March 18.
According to figures released by Riverside, 94% of people referred to them haven't returned to prison and 84% have accepted assistance through training or work.