Owning a pet increases your chances of happiness and success by 50% says a recent study, but what about owning a rescue dog?
Emma Billington, owner of Dogs 4 Rescue, wants to change the stigma that all rescues, in particular Staffies, are unruly, undisciplined and destructive.
Instead, she wants to show how, in the right environment, rescue dogs can be as adaptable, loving and well behaved as any other pet.
Unlike most rescue centres, Dogs 4 Rescue is based in Emma's home in Manchester, which she shares with her partner Louise, 40 rescue dogs and a few farm yard animals!
"I was a Computer Programmer and there was a little Staffie dog chained up near my parents' house. I'd visit her daily to give her water but I couldn't shake the feeling that I was chained to my desk and she was chained out there.
"I decided that enough was enough and so I set up my own dog walking company in 2004, which would then become a day care and eventually a rescue."
Aware that traditional rescue centres can lead to behavioural problems in the dogs as well as be upsetting for prospective adopters, Emma and Louise wanted to create an environment where dogs could be happy and free.
The dogs were up & out early this morning for a good run around before the day warms up. If you like our alternative kennel-free approach to rescue please give us a RT & sign up for our monthly newsletter https://t.co/LvBb1TfHIp pic.twitter.com/w2XadN0RRE

— Dogs 4 Rescue (@Dogs4Rescue) July 23, 2019
Swapping cages and kennels for warm beds and sofas, their unique and innovative rescue was born through Emma's desire to give dogs a better chance in life and also change the stigma attached to rescues.
"We've got so much that we're trying to achieve; changing the stigma attached to rescue dogs, giving them a better chance of being rehomed, creating a choice of dogs to pair them with the right owners, encouraging people to adopt rather than shop and showcasing Staffies for the loving dogs they really are.
"Every week so many Staffies are put to sleep but the figures are hidden, it's a massive issue. Staffies have such a bad reputation and we're trying to showcase them for the loving dogs they really are."
Dogs 4 Rescue homes up to 40 dogs at a time, with some staying for only a couple of weeks and others, who are unable to be rehomed, living with Emma and Louise permanently.
"Our aim is to have a sanctuary here for the dogs that are too badly traumatised and can't be rehomed and to also create a separate visitors centre for those that can."
At the visitors' centre, people will be able to see the dogs in an unrestricted environment similar to that of a real home rather than cowering in the corner of a cage, inhibiting their real personalities. This makes both the decision and transition process easier for the dog and prospective owner.
As part of their initiative, Emma and Louise have also set up Borrow my Rescue, giving people unable to own a dog the opportunity to take them out.
"People don't like to take rescue dogs out for the day because they don't like how it feels to take them back.
"But we want to change that because the dogs are getting experiences they wouldn't otherwise have had and we can also benefit from the feedback."
They have also introduced Rescue Therapy, a chance for people to interact with the dogs for the purpose of improving mental health.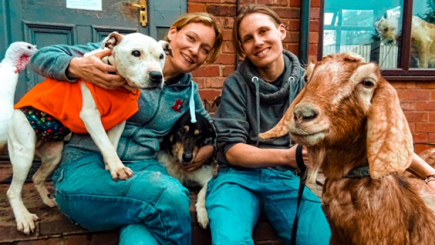 HAPPY HOME: Emma (left) with partner Louise and just some of the pets they have at their Manchester house – they have space for 40 dogs in total! 
Rescue Therapy is an alternative to the traditional forms of relaxation such as mindfulness, yoga and meditation. Available with a qualified psychologist, children have also used the service.
"The dogs give the children something to talk about and it helps them to open up."
Whilst it is often assumed that rescue dogs have a multitude of issues, Emma and Louise want to show that they often have a much greater and infectious love of life, having been treated so badly previously and knowing how lucky they are.
Having rehomed over 1000 of their dogs, Emma and Louise have set up a supporters group.
"All the owners who have adopted from us are on the supporters group, so we can see how the dogs are getting on after they've been rehomed.
Thank you @channel5_tv for featuring our free-running dog rescue on #ahousefulofanimals If you are inspired by our vision of rescue dogs living together happily kennel-free pls consider donating to our capital appeal to buy a 2nd Centre https://t.co/nhll4jtDVS #happydogs

— Dogs 4 Rescue (@Dogs4Rescue) July 21, 2019
"When they come to us, they've been in a terrible state and to then see them being spoilt; that's the most rewarding part."
Dogs 4 Rescue are proving to us all that, despite their bad reputation and difficult past, rescue dogs will give you a happy future.
"While we rescue the dogs, it's actually the dogs who rescue us," said Emma.