As more than 500 artists plan to showcase their work at the Buy Art Fair and The Manchester Contemporary, many have their own unique tales to tell about their inspirations.
And Jamie B Edwards is one such artist who has used the inspiration of Manchester to influence his iconic work.
Ahead of the event this weekend held in the Old Granada studios, he spoke to MM about his connections with Manchester and what he will have on offer at the event.
Having grown up on the south coast, the subject of Jamie's art may come as a surprise to those that are unfamiliar with his work.
Throughout his career, the 38-year-old has chosen to take inspiration from his surroundings and he will be showcasing pieces that have been created throughout the numerous times he has resided in Manchester.
A transition to focus on urban cities and architecture is a core element within his work and in particular the city of Manchester is incredibly close to Jamie's heart.
"Manchester offers a blend of architectural styles from the last 150 years," he said.
"I am particularly inspired by the contrast of the Victorian brick and iron structures against the large rectangular concrete shapes of the 50's, 60's and 70's.
"This dramatic mix seems unique to northern cities of industrial heritage and is not present on the south coast where I grew up. 
"The North West also has the highest concentration of football clubs in Europe which is very handy for my football ground series."
And Jamie has received a lot of attention for this critically acclaimed series, which includes an array of grounds from all corners of the country and leagues, including Manchester's fierce rivals, City and United.
The element of his work that distinguishes his style and sets him apart from other contemporary artists is his unique relationship with the use of colour.
He subverts and distorts what is naturally expected which stimulates an intriguing effect in his art and a feeling of both familiarity and unfamiliarity.
Attempting to explain the method in his madness, Jamie said: "The choice of colours seems almost intuitive, like a visual language that I fit within the framework of my drawings."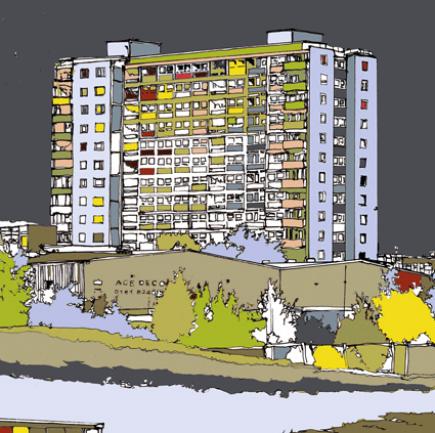 BLOCK COLOURS: Many of Jamie's paintings have been influenced by Manchester's skyline
Having lived in Manchester twice before in his life, Jamie has decide to live here again and is familiar with the many boroughs of the city.
"This is my third time in Manchester after stays in Melbourne and Oxford and it is great to be back," he said.
"I have missed the city and its people. During the three periods that I have lived here I have had a studio in a different part of the city; Salford, the Northern Quarter and now Deansgate.
"Each area has offered its own unique quality and exciting vistas to draw.
"I have no particular favourite but I am currently enjoying exploring the Castlefield area. I am really inspired by the roofscape that Manchester has to offer."
Despite living in the city for a good chunk of his life, Jamie feels he is still not even close to seeing all that Manchester has to offer.
"From my current base in Barton Arcade I am able to explore the majority of the city. There is so much I am yet to discover," he added.
"I can normally be found heading up to the Northern Quarter to top up with paint from Blyth's art shop and coffee from Fig and Sparrow."
Jamie has been hard at work of late and has created numerous pieces focused on Manchester landmarks and familiar cityscape scenery.
He is bringing along a limited number of art works to the Buy Art Fair this weekend and explains his inspiration for one of his newest pieces.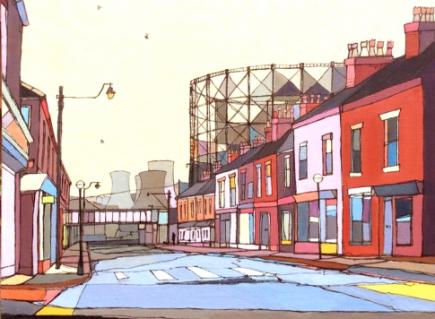 EISEL STREET: Jamie's painting Gasometer is painted with acrylics and ink
"One of new paintings for the Buy Art Fair is based on a photo taken in 1962 of the Gasometer in the Bradford area," Jamie said.
"It is featured in Batsford's – Manchester Then and Now by Jonathan Schofield. I am drawn to the mix of the Gasometer's harsh intricate structure alongside terrace houses and large distant cooling towers.
"I use a range of medium but this painting is painted with acrylics and ink."
Despite initially graduating with a Business degree, Jamie returned to university to undertake a Fine Art degree and completed this by 2008.
He said: "My mother is a painter so I grew up in an artistic household.
"In my formative teenage years I was greatly influenced by American abstract expressionists and pop artists of the late 50's. In particular De Kooning, Rauchenburg, Rivers, Hopper and Johns."
The Buy Art Fair returns this year boasting over 80 exhibitors showcasing their work alongside Jamie and provides the perfect opportunity to discover new and influential contemporary artists and talent.
The event is open September 26-28 and registrations for free tickets are still available online here.
Images courtesy of Jamie B Edwards, with thanks