Sisters Gisela Feldman and Sonja Sternberg were teenagers when they fled Nazi Germany on the SS St.Louis destined for Cuba, but were denied entry and forced back to Europe.
Now aged 96 and 93, they share their story which led them to the UK, what it means to be recognised in the 2020 New Year's Honours List, and why they have dedicated their lives to educate others about the Holocaust.
Gisela (above left) and Sonja (above right) grew up in 1930s Berlin with fond memories of their Polish parents taking them on holidays to the Baltic Sea.
"We had a wonderful childhood. We lived in a non-Jewish area, so all of our friends were non-Jewish," Gisela recalled.
"Nobody ever cared about the difference in religion, we played together in the street – hopscotch, marbles, everything.
"In those days it was still safe for kids to be out and we were invited to each other's birthday parties and had a great life until 1933 when things changed."
After Hitler's consolidation of power, the lives of Jews like Gisela and Sonja, as well as other 'undesirables' across Germany, began to change as they faced increasing persecution.
"The workers used to march on the 1st of May, it was called 'Workers Day' and on the other side of the road, the Nazis marched and of course that caused a problem because the Communists were just as unwanted as the Jews.
"I heard a shot and I saw a body carried out by our block of flats. As a ten year old I felt that life would never be the same again having seen something like that happening."
However, during the early years of the Third Reich some initially were not afraid to challenge Nazism. An SS officer stood outside their father's grocery shop warning customers 'not to buy from Jews', but they still came.
Gisela's 'brave' teacher assured her classmates that she was 'still the same person' and even wanted to make her secretary for the Hitler Youth.
"The problem is hatred grows underground like a weed, and by the time it gets to the surface it is hard to eradicate, and we were taken by surprise that things could get so bad suddenly."
Sonja remained in a German school until Kristallnacht in November 1938. She was 'not friendly with anybody' but remembered that she was 'treated alright', until they had to flee the country.
"The girl downstairs had a birthday party and I was not invited. I was putting my ear to the ground to listen to what was happening down there.
"I was a Jewish girl and I was not invited to the birthday party, it was just one of those things that you just had to accept because we could not do anything about it," said Sonja.
'DO NOT TAKE MY DADDY'
In the early hours of the morning on October 28th 1938, the girls received a knock on the door. Their father was being deported to Poland as their government had brought out an edict that citizens who had not visited the country for the last five years would lose their nationality.
"Two men came, they could have been police, they could have been Gestapo. They were looking for my father, we did not know why and I screamed 'Do not take my daddy, do not take my daddy,'" said Sonja.
"When they came, I quietly disappeared into the kitchen and made sandwiches for my father. Now as a 15-year-old I do not know what made me do that, and that was a good thing because he was on a train all night," added Gisela.
Whilst their father remained in Poland, visas for Cuba emerged and their mother was left with an impossible decision to make.
"Our passports did not come until the last minute, my father's passport had not come and I remember him crying on the telephone to my mother 'Do not go. Do not take the children'.
"So what was my mother to do? Either she takes us and my father can come on the next boat, or nobody goes. So that is how my father got stuck behind in Poland," recalled Sonja.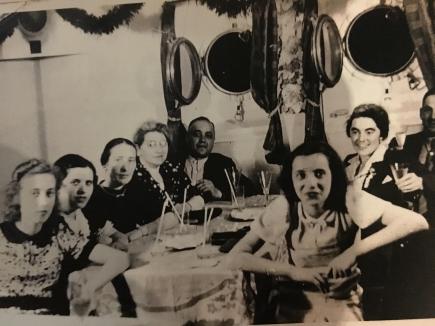 VOYAGE OF THE DAMNED: Gisela (far left front) and Sonja (far front right) pictured on the St Louis – the sisters last heard from their father in 1942 
They booked passage on the St Louis and the sisters were among more than 900 Jews who set sail to Cuba from Hamburg in May 1939, on a journey coined the 'Voyage of the Damned'.
"We came from a very religious family, but we left on a Friday night [Shabbat] and they all came to the station to see us off. And funnily enough, I do not know why, but if I go and see anybody  off at the station, or the airport, tears still well up inside. It is a sort of feeling I would never see them again from those days," said Gisela.
The ship was anchored off Havana for seven days after the Cuban authorities denied permission for them to land, and was later blocked entry into the USA.
"A lot of people already had families in Cuba. Sometimes the husbands were there they came in little boats around the St Louis shouting for their families so they could wave to them or speak to them.
"I remember one man shouted to his wife 'Throw my little boy down, at least I will have him'. Well of course she did not, but the sadness of it – he could see his child, he could see his wife and that was it. They knew they were not going to get together again."
The St Louis was forced back to Europe where Belgium, France, Holland and the UK agreed to take a quarter of the passengers each. After five weeks at sea, the sisters were granted entry into England and disembarked at Southampton.
They spent much of the war years in London, doing domestic work and dressmaking. Gisela even kept a diary of the Blitz and both sisters were evacuated from the city on several occasions. They last heard from their father in 1942.
"In those days we would not take anything from the government, we were always so keen to look after ourselves. My mother who worked in the pickle factory used to bring little white onions home at night. We would peel them with our gas masks on to earn extra money in the evening," remembered Gisela. 
'NEVER AGAIN'
The women have had fulfilling lives here in the UK, both were married for over fifty years and went on to have children and grandchildren, and eventually settled in Manchester.
However, many others were not as fortunate as 255 of the passengers on the St Louis were later killed by the Nazis and their accomplices when Hitler's forces swept across Western Europe.
The sisters never discovered the fate of their father or 30 extended family members who perished in the Holocaust. But they were believed to have been sent to concentration camps or shot in the woods.
Determined to keep the memory of those lost during the Second World War alive, Gisela and Sonja have dedicated their lives to educating others about the Holocaust. They have spoken about their experiences and the plight of modern refugees across the world, from Berlin to Toronto and more locally from Llandudno to Manchester.
"Ever since the Holocaust people have said 'never again', and we have talked about it so much. Unfortunately if you look around the world, we have not been very successful. But it does not mean to say we should give up because it is said that bad things only happen if good people do nothing," said Gisela.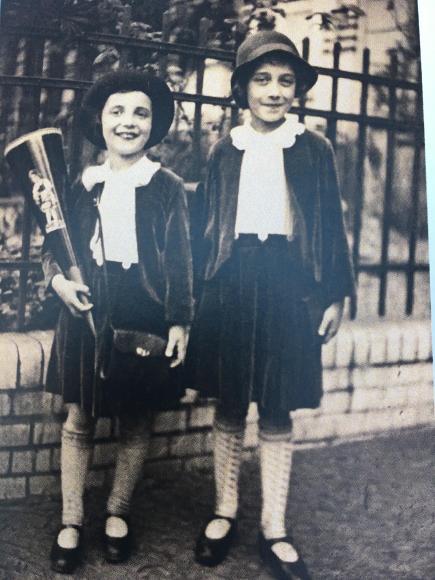 HAPPIER TIMES: Sonja's first day at school in Berlin, with Gisela right by her side
The women are still coming to terms with the exciting news of both being awarded the British Empire Medal (BEM) for their services to Holocaust Education in the 2020 New Year's Honours List.
"I do not believe it. I do not know why? I do these things because they are necessary. I feel I ought to speak because it is important," said Sonja. 
"It is a duty," added Gisela.