Retailers across Manchester will be opening their doors early tomorrow morning to cash in on the huge American 'Black Friday' spending craze.
Thousands have been holding off buying gifts until the one-day event, hoping to score a bargain as hundreds of retailers across the city slash prices and offer up exclusive offers.
Expected to be the busiest shopping day of the year for the UK, British consumers will spend more than £1million every three minutes tomorrow.
Simon Binns, head of the Manchester Business Improvement District (BID) scheme, which aims to improve footfall in the city centre, said: "It's going to be a big one, we think, so some retailers will be opening longer hours, a lot will be taking extra staff on.
"I would be surprised if it isn't [the biggest shopping day of the year].
"I don't think it's overtaken Boxing Day yet, but it's certainly getting closer. I think Boxing Day is established and the Boxing Day/January sales are a bit of a national institution but certainly if the offers continue to be compelling on Black Friday, then things might change."
We've put together a map of Manchester's biggest retailers and what times they're opening tomorrow.
In Manchester, the Trafford Centre will be opening from 10am-10pm, while shoppers visiting the Arndale can browse and buy from 9am-9pm.
Although some of the deals will be available all weekend, visitors to the Trafford Centre on Friday can also spot the Coca-Cola Christmas truck as it stops off in Manchester on its UK-wide tour.
Black Friday is historically named after the day when US retailers traditionally went into profit – or 'the black' – for the first time, and marks the start to the holiday shopping season.
It saw over 141million US shoppers take to the high streets last year, spending over £36billion in just the one day.
Amazon brought it over to the UK back in 2010, and this year will be offering ten times as many deals as it did four years ago.
Explaining why the event has been so successful, Mr Binns says it's simple.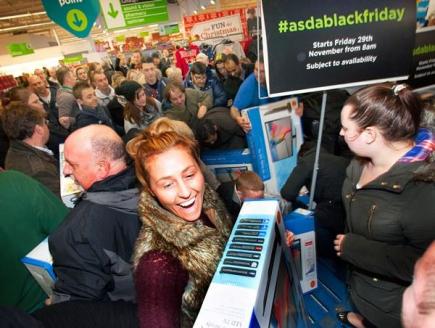 DON'T QUEUE HERE: Black Friday bedlam ensues in Asda last year
"People like shopping! People like the feeling that they're getting something for a big discount. We've seen that in the popularity of sales shopping generally," he said.
"In the last couple of years, sales are lasting longer; discounts are getting bigger as retailers try to get customers in."
Mr Binns didn't think it likely for the crazy Black Friday antics seen in America to cross the pond and start affecting British shopping.
"I don't know, it's kind of driven by the deals that retailers can do with their suppliers, isn't it, I suppose," he said.
"The key thing here is actually looking at how it compares to Boxing Day and how close we're getting to Boxing Day now in terms of performance."
Supermarket giant Asda has been behind the UK Black Friday trend since the beginning, with their owners, Walmart, a huge player in the US retail scene.
The huge superstore, which has 16 stores in Greater Manchester, predicts this year's Black Friday will be three times bigger than last year.
They have increased the number of products in the sale from half a million to 700,000 and have rolled out the event to 100 more stores across the country.
This year they're switching the focus from their Eastlands store, located just opposite Manchester City's grounds, to their Trafford Park store which neighbours the Trafford Centre.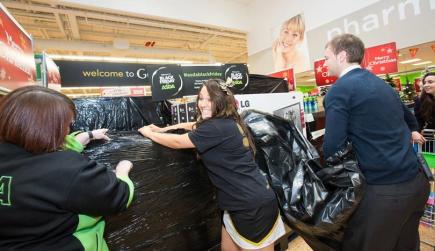 THE STOCK'S ARRIVED! Asda staff rush to get more stock out before customers arrive
Their success stems from their ability to use the buying power of its huge parent company Walmart to negotiate deals that smaller retailers would be unable to offer.
Around 60% of its Black Friday stock last year was sold in the first two hours, with 10,000 televisions and 16,000 tablets sold in the first hour alone.
Many people across the UK have come out in criticism of Black Friday, calling it an unnecessary American import.
To date, seven people in the US have been killed in Black Friday-attributed accidents, and a further 90 injured. Last year's event saw stabbings; shootings and pepper spray attacks in greed-fuelled violence in just one day.
However Mr Binns doubted whether it was strong enough to become an all-out cultural event like across the pond.
He said: "Is it a cultural event? I don't know if it is. It's driven by consumer demand, isn't it, and we're not importing Thanksgiving, that would be a cultural event.
"I think if retailers want to make big offers that reflect what they're offering in the US, and UK customers want to buy those things at those prices, then that's what drives it."