She's best known for playing Madge: the cantankerous pensioner in the hit ITV comedy series Benidorm.
But while Sheila Reid may have faded from our screens she's been gracing the stage in a new feisty female role.
As Gloria in Sandi Toksvig's comedy Silver Lining, she's been delighted to return to her theatre roots. 
"I love being back in theatre because that's how I started," says Sheila, who began her acting career in the West End.
"Theatre was my first love and it's often the first love that lasts the longest."  
Set in a care home during a storm, Silver Lining tells the story of five extraordinary women who find themselves in a peculiar situation.
As the plot unfolds, so too do the characters' amazing life stories. 
Gloria is a character who has run a pub for 40 years and from her leopard print onesie it's fair to say she isn't shy or retiring.  
But can she be anything at all like Benidorm's Madge? The scathing, chain-smoking Granny with gumption?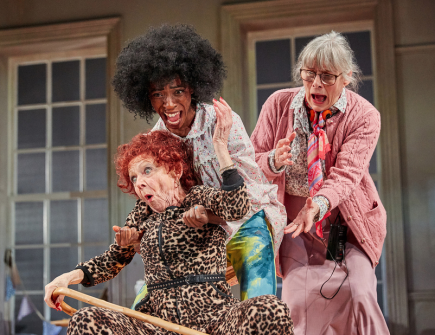 LUST (FOR LIFE): Sheila told MM both Benidorm's Madge and Silver Lining's Gloria are strong-willed and have plenty of get up and go
"Well they are both very strong willed and they both have a great lust for life," says Sheila.
"They say it as it is, they don't butter it up but I think Gloria is perhaps wiser than Madge and more generous.
"They're both marvellous characters."
The audience meets Gloria at a very unexpected moment, and the play certainly addresses how women are adept are dealing with a crisis.
"It's lovely to see women working together. They are all very different women and that's fascinating," says Sheila.
But amidst cuts to adult social care, it also raises important issues surrounding how we look after our ageing population.  
"It's a big problem with funding," says the 79-year-old.
"There is this great struggle which is reigning all over England and we are just abandoned."
Sheila has previously performed at the Opera House with the National Theatre Company but this will be her first appearance at The Lowry.
She adds: "I am looking forward to it. It will be interesting to come to a new theatre.
"That's one of the joys of touring."
Silver Lining will be shown at The Lowry Theatre from April 4-8.
To book tickets visit https://www.thelowry.com/events/silver-lining