Manchester and Salford lost a true visionary when Shirley Baker, one of the North's most iconic photographers, passed away.
The famed photographer sadly died on September 21, leaving her honest and eye-opening monochrome depictions of her native Salford behind.
Shirley had an illustrious career spanning five decades working in industrial photography and freelance writing.
Her poignant images of the brutalities of growing up in 1960s' Manchester poverty are particularly disarming, and her ability to capture spontaneous moments of happiness and sadness touched many not only in the city, but across the globe.
"I cannot claim that my photographs represent anything other than a few wisps teased from some of the countless threads that form the intricate tapestry of our lives," she once famously said.
Born in Salford in 1932, Shirley studied photography at Manchester College of Technology, going on to study at London Regent Street Polytechnic, then the London College of Printing.
She took thousands of photos over a period of 15 years during the mid-20th century.
These photographs show traditions of Salford and Manchester, as well as life during the great upheaval caused by the largest programme for the clearance and redevelopment of old, sub-standard housing in Europe. 
Shirley exhibited not only close to home in Salford and Oldham, but the prestigious Tate and Louvre galleries, and was well celebrated as one of Manchester's best social photographers.
After leaving Manchester in the 1990s she lived abroad, photographing subjects in the South of France, America and Japan, before returning back to her home city to showcase her work in the early 2000s.
Fans of her photography have this week been leaving their tributes to the woman who was able to capture the emotions and difficulties of a generation.
Amy Goodwin, Exhibitions Officer at Salford Museum & Art Gallery and Ordsall Hall, was involved with preparing Shirley's prints for her last exhibition there, which took place in 2011-2012.
She remembers choosing what photos were going to make it into the exhibition.
"[Shirley had] brought a couple of boxes of prints, and we just started going through, to see which ones would look good and whether there were any themes coming out of the images we were looking at," Amy said.
"It was me and Shirley who did all the selection for the show, which was really hard, as I'm sure you can imagine, because she's got thousands and thousands of incredible images."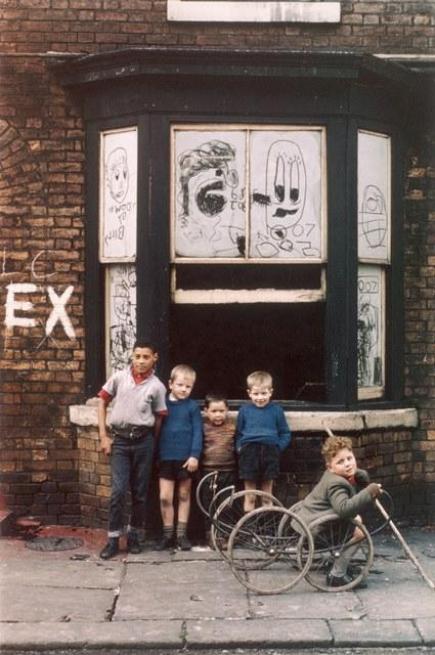 GLIMPSE OF THE PAST: Shirley Baker's photos captured life on the streets of Salford (© Estate of Shirley Baker/Mary Evans Picture Library)
Shirley originally exhibited at Salford Museum & Art Gallery back in 1986 at the start of her career, in an acclaimed exposé entitled 'Here Today, Gone Yesterday', before returning for a retrospective exhibition of her work in late 2011.
The latest exhibition of her work included her photographs of the 1960s slum clearances and demolitions that shaped Manchester and Salford, juxtaposed with photos of the exact same streets 40 years later.
Shirley's collection also included a selection of photos loaned from the Greater Manchester County Record Office, who commissioned her back in 1987 to capture an average June day at Manchester Airport.
Amy, who has worked at the gallery for more than five years, is originally from Stockport.
Having grown up in the 1980s, she feels that Shirley perfectly captured the decade in images.
She said: "There were quite a lot of 'punky', very eighties stylised photographs, showing people with their hair backcombed, wearing all amazing colours and stuff, so that was really good to see – things I remember from my childhood growing up.
"I think what was so incredible was the way she just captured that perfect moment in time, whether it was a very humorous moment, or a very sad moment.
"I've not really seen another photographer of her calibre with the same level of spontaneity as Shirley."
In the introduction to her Retrospective exhibition, the gallery used Shirley's inspirations to sum up what drove her to create the enduring images that captivate so many.
"I have always been interested in the trivia of everyday life. However, I admit I have also had an eye out for the unusual in the usual," she said.
"I love the immediacy of unopposed, spontaneous photographs, and the ability of the camera to capture the serious, the funny, the sublime and the ridiculous.
"Despite the many wonderful pictures of the great and famous, I feel that less formal, quotidian images can often convey more of the life and spirit of the time."
Manchester Metropolitan Geography Lecturer, Dr Steve Millington discovered her work at her 2000 exhibition at The Lowry, entitled Streets and Spaces.
"I say I came across her work in 2000, but I'd seen her photographs a hundred times before – they appear on flyers for clubs, all sorts of stuff – it's really embedded in Mancunian culture," he said.
"So I've got a flyer for a club night from about 10 years ago featuring a very famous photo she took of an old man holding a skipping rope to advertise a band night.
"So I went to this exhibition in 2000 at the Lowry and I was taken aback – I actually knew a lot of the images."
In Streets and Spaces, Shirley was invited back by Salford City Council to photograph the very streets she'd photographed in the 60s.
It was accompanied by a book where she juxtaposes the images, forty years apart.
"There is and there isn't [a huge number of changes]," said Dr Millington.
"Physically, the landscape has completely transformed – in the background, there are odd buildings you can recognise, but it's pretty much a complete transformation in terms of the built environment. 
"I think what's really interesting though is in the continuities – when she photographed children playing in the street on bicycles and skipping – they're still doing that in 2000. 
"So what people do and how they are; they might dress differently, and look a bit different, but they're pretty much the same working class people of 1960s' Manchester."
Phil Costello, a set maker at the Royal Exchange Theatre in Manchester, has a more personal connection to Shirley's photography than most. 
In one particularly harrowing photograph, Shirley captures a mother and son pushing a pram, set against the bleak backdrop of high rise flats.
At her 2000 exhibition at the Lowry, while admiring her work, Phil's eldest brother recognised himself in the photo.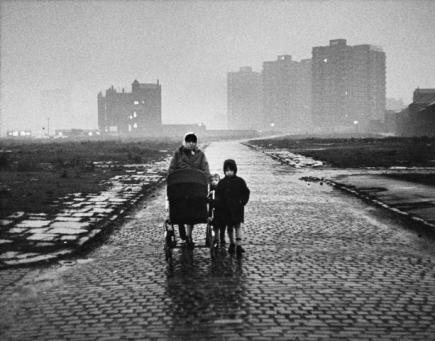 GLIMPSE OF THE PAST: Phil Costello was still inside his mother's womb when she was captured in Shirley Baker's photo in Salford (© Estate of Shirley Baker/Mary Evans Picture Library)
"No one had any recollection of it being taken," said Phil.
"It deeply saddened my mother when she saw it. She was 30 at the time and it brought back painful memories of quite a bleak time in the family's history.
"To my mind it's a proud reminder of what we all managed to achieve, with three of us four boys (she was pregnant with me at the time) obtaining good university degrees and successful careers.
"The brilliance of Shirley Baker was to document the transition of Salford's slum housing to the shiny new tower blocks, with huge compassion, a sense of humour and pathos and of course, a fabulous eye."
Manchester mum and tour guide with Manchester Guided Tours, Emma Fox, has children in the same school class as Phil's children.
She also shares a deep love for the optimism of Shirley's photography, which draws influence from Henri Cartier-Bresson, Garry Winogrand and Robert Frank, among others.
"I love the sensitivity of the lens, capturing these lost moments, like that picture of Phil's family in the wasteland," she said.
"It's the post-war, post-industrial slump that you read about: empty warehouses, slum clearances that had an impact on everything – Morissey and the Joy Division lads being turfed out of their homes.
"It led to that wave of Manchester music and the city was forced to reinvent itself. And so I love the wider context behind her photography, but also just the smaller details like the personalities in her portraits shining through."
Sean Baggaley, Social History Curator at Gallery Oldham, who held Shirley's work from late 2012 to early 2013, had the privilege of working with the maverick photographer.
"Shirley was a lovely woman to work with who was so happy to share the work she had done and was always so pleased that it still resonated with audiences," said Sean.
"I think she realised at the time that she was capturing great changes in Salford and 
Manchester but could have had no idea how iconic some of these images would become."
Shirley's 1989 book, Street Photographs, sadly now out of print, was Professor Stephen Constantine's first introduction to her photography.
The retired Lancaster University history professor was asked to write the introduction to Shirley's first book.
In what he described as 'one of the most enjoyable experiences' he's ever been involved with, he described Shirley as 'an absolutely delightful woman; a fantastically good photographer with a real eye for the human condition'.
Hailing from Salford, also, and born around the same time as Shirley, Professor Constantine vividly remembers growing up in the local area and some of the sights she documented through her photography.
"I remember that sense of it being a community in which the men were working. It's great to see the images and feel this personal identity with them," he said.
In the twenty years between 1955 and 1975, some 1.3million homes were demolished nationwide.
"She talks in her introduction in the book about how the people in her photographs aren't posing: they're in their situation, they're comfortable in their spaces and they're not offended – I think that's part of her personality," Professor Constantine said.
"She didn't come over as a voyeur; she had an instinctive empathy with these people and they responded to that. They are doing their stuff, in their spaces. It's a deeply, deeply humane collection."
Tom Gillmor, Head of Content at the Mary Evans Picture Library, who archive Shirley's photography, worked with her since 2008.
"When Shirley began photographing the streets of her native Salford, it seemed that no-one was interested in recording the human story of these soon-to-be demolished communities," he said.
"That she chose to preserve these moments on film seems now like the only perceptive response to a fast vanishing environment.
"It was wonderful to finally meet Shirley face-to-face at her exhibition at the Salford Museum and Art Gallery in January 2011.
"She took great delight in my interest in the process behind the creation of the photographs, but was at the same time very humble and modest, preferring to hear my reactions to her work.
"She was always delightful to contact if query regarding her work arose and the excitement which always greeted an email popping into my inbox with a new scan of a recently-discovered image will be greatly missed."
Described by many as a very 'private' and 'reserved' woman, Shirley's confidence behind the lens continued to surprise and please her audiences for a career spanning five decades.
She died on August 21, leaving behind her husband Tony and daughter, Nan.
Images courtesy of © Estate of Shirley Baker/Mary Evans Picture Library, with thanks.
Visit them at  www.maryevans.com and their print site at www.prints-online.com