When somebody suffers a stroke at an early age the world seems like a much harder place to live in, joys are harder to come by and finding an outlet for expression to many feels almost impossible.
Keith Gresty, 68, has been creating masterpieces using water colours and tapestry since suffering a massive stroke that paralysed him on the right side of his body 29 years ago.
Despite being right handed, Keith persevered and patiently learned to use his left hand before going on create beautifully intricate and colourful work.
And the Stockport artist was dealt another blow when he was diagnosed with an aggressive brain tumour earlier this year.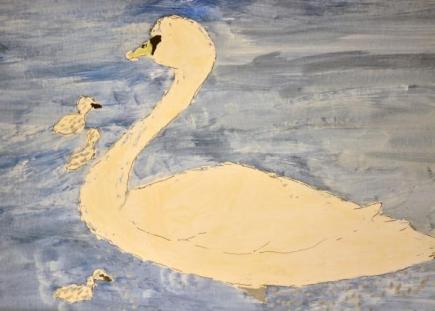 ARTIST: Keith's right side of his body was paralysed from a stroke 
Keith's daughter Louise, says her dad found art as a way of dealing with his stroke, and his talents have flourished ever since, despite being faced with life threatening hurdles.
Keith's work will now be displayed to the public in an exhibition at the Davenport hotel from 10- 1am on November 5.
"Since having his stroke my dad has become a fantastic artist," she told MM.
"It's something he's really passionate about and he's got a huge talent for, so we just want him to be recognised for his work.
"Looking back on I always remember my dad was always a really busy kind of person, and never let the stroke affect him in anyway. 
"He was always joining clubs, going out doing his exercises, always out and about.
"My mum would always get angry as he'd always sweep snow off the drive way off the front, my mum was scared he'd slip over, but he never let anything get the best of him so he'd sneak out and do it, that's just what he's like."
When Keith first had a stroke, Louise was just two years old.
Despite the obstacles that stood in him and his young family's way, the former draftsman has fought to lead an independent and full life and develop a strong bond with his daughter.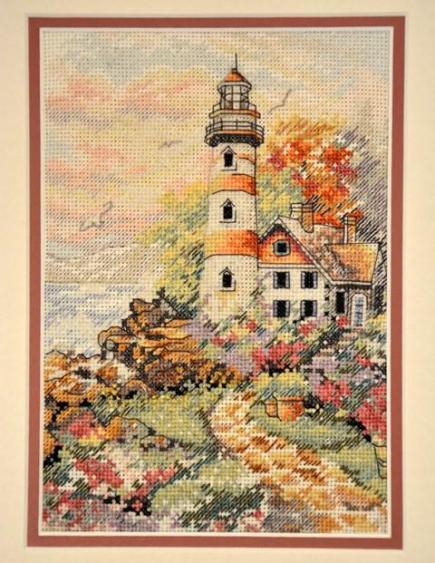 PAINFUL: Keith's family have learned to cope with their father's condition
Louise said: "It was a struggle and sometimes he'd get frustrated that he couldn't communicate as much as he would have liked.
"But because I was brought up with it we found our own way of communicating, whether that be though writing things down or drawing pictures."
Keith's wife Liz said coping with her husband's stroke was 'painful', but art has played a crucial part in his recovery.
She told MM: "It certainly was difficult at first. I was married to Keith 12 years before the stroke, and to have a little girl that you had wanted for so long while your husband was poorly was very painful at times."
"Due to his lack of speech, the art has been amazing way for him to communicate and express himself aswel."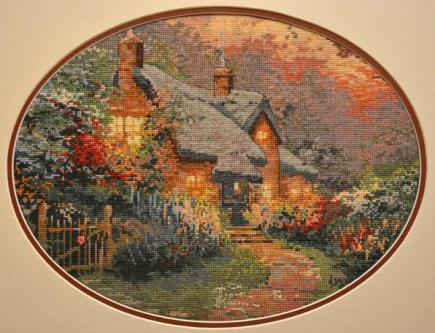 LIFE THROUGH ART: Keith has a special talent for embroidery
Keith's passion for art first came when he started painting in watercolour.
He then started to slowly embroider with just one hand and created a special frame he created for himself to keep the fabric in place.
His talent has been nurtured by Brushstrokes, a therapeutic art group run by people who have had strokes or whose family have been affected by them.
As well as participating, Keith has been a volunteer at the group and throughout his life has encouraged others in his situation to embrace life and live it to the fullest.
As well as Brushstrokes, Keith over the years has also worked at the stroke unit at Stepping Hill Hospital (Ward E1) where, with other Brushstroke members, he developed a fortnightly art workshop to inspire the patients there.  
"He inspires everyone around him, that's why he got involved with Brushstrokes, to show people they can achieve something, and there is a life after suffering a stroke," Liz said.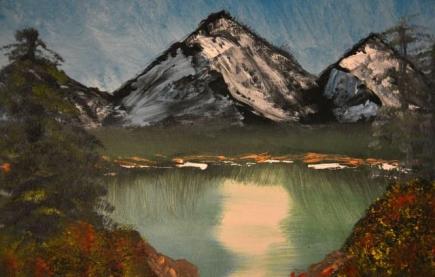 INSPIRATIONAL: developed a fortnightly art workshop to inspire the patients at Stepping Hill Hospital
The Gresty family were hit by another bombshell last year when Keith was taken into hospital the day after his father's funeral.
They were told he had a brain tumour, he has been given between 3-9 months to live.
Louise said: "It was a massive shock for us, completely from out of the blue.
"My dad lost his father in August and he was taken into hospital with the tumour the day after the funeral.
"It's sent us into a bit of a tailspin so his art and his attitude are more precious than ever."
Despite suffering  a difficult year, the art once again is proving to be a life saver – literally.
Liz said: "The tumour has devastated us, for man to work so hard after his stoke and to get to this point, it's just completely devastating.
"The exhibition is definitely keeping him going though, he can't wait for it, and it's keeping me going too to be honest."
As well as serving as a living legacy for Keith, his work will continue to keep inspiring people who have gone through what he has.
Louise said: "How he hasn't given up and his determination definitely keeps me grounded. 
"Even now throughout the brain tumour he remains positive and it's a head turner that he can stay strong through all this adversity.  
"We've had so much support from Brushstrokes, friends, families and people whose lives my dad has touched.
"My dad's work always has pride of place on the wall, but it is a legacy that will live on and it will tell story of my dad's achievement and send out that message that you can do anything with a positive attitude."