If you are looking for a ghostly Halloween then there's no better place to celebrate than Manchester.
This weekend the city will be home to many creepy activities and festivities in what's being called 'Halloweekend'.
Manchester is one of the top six cities in the UK to often search terms related to life after death on Google, including words like 'Paranormal', 'Afterlife', 'Haunted House' and 'Ouija'.  
So it's definitely a no-brainer that all you people who searched 3,390 times to see if your house is haunted should have plenty of activities to choose between over the next few days.
Here's MM's top five things to do during 'Halloweekend'.
5) Creepy Crypt Halloween activity
Central Library in St Peter's Square is being changed into a fun-filled day for families with trick or treat activities and a ghastly game with goody bags around every corner. The storied history of the building should also add to the fun.
If you don't fancy throwing yourself into the action, you could always just head to the gift shop, which is full of toys, t-shirts and bags.
You could even grab a bite to eat or drink in the café!
4) The Big Dress Up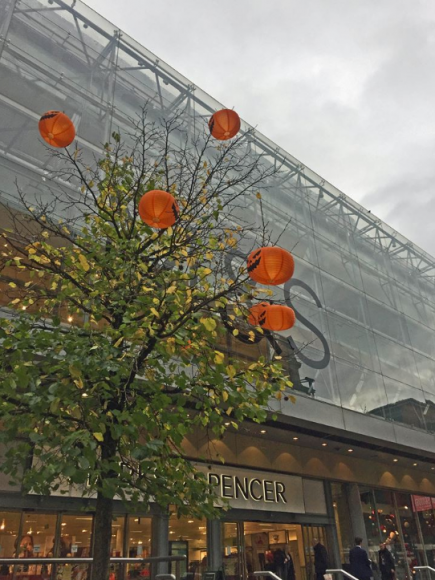 From 10am until 7pm on October 28 and 29, Manchester is hosting one of the biggest mass dress-ups in the history of Halloween.
Every age range is welcome and who wouldn't like to strut their spooky stuff in a costume?
There is even a competition with prizes up for grabs. Head over to Market Street and pose for a picture to be in with the chance of winning a Christmas shopping spree. You can tag your pictures on Instagram and Twitter @HalloweenMCR #HalloweenMCR.
3) The Haunted Maze
Based at St Anne's Square, there's going to be a haunted maze where creepy creatures come out at you in every corner. We all love a good spooky scarefest, so your expectations will not be faltered.
The only advice MM can give is don't, whatever you do, get lost!
Do you dare to enter?
2) Behind Closed Doors
The Printworks is changing…
The place where families meet for dinner and a trip to the cinema isn't going to be so friendly for much longer.
Instead, this weekend it's changing into 'The Lab' and 'The Morgue'.
Throughout the day, you'll find Dr Hertz Van Driver in 'The Lab' making a crazy experiment and he has an especially cunning plan to capture the essence of 'fear' itself.
Then at night from 7pm until 11pm, the Printworks is changing into 'The Morgue'. For over 18s only, just remember that 'in the darkness, something is waiting for you.'
Do you have the guts to take it up?
1. Spooky Outdoor Cinema
Halloween will soon be upon us. Looking for something a bit tamer than FilmFear? We're showing Hocus Pocus on Sunday https://t.co/omBSluvcH3 pic.twitter.com/kUKe991XgC

— HOME (@HOME_mcr) October 26, 2017
;
Watching scary movies outside will no doubt speak to those who enjoy a good ol' fashioned fright.
Located at Exchange Square, on Saturday and Sunday there will be a host of spooky – but still family friendly films – to choose from.
You can catch:
Hotel Transylvania (Sat, 12pm)
Hocus Pocus (Sat, 2pm and Sun, 10am)
Ghostbusters (Sat, 4pm)
The Witches (Sun, 12pm)
The Addams Family (Sun, 2pm)