Everybody's talking about Layton Williams, but last week it was my chance to chat to the versatile actor and bona fide West End star.​
The Bury born actor has a strong CV, with memorable roles on TV with Bad Education and Beautiful People and on stage as Billy Elliot already under his belt.
Now, the current lead of the smash-hit play, Everybody's Talking About Jamie is bringing his workshop to The Zone in Bury this Sunday to help encourage young people to get involved in the arts.
Layton grew up on the Dicky Bird Estate and tells me how proud he is to be bringing his workshop and his knowledge back to Bury.
"I am coming home to my hometown. I don't really get to spend much time in Bury, so working and teaching in my area is going to be pretty cool."
Attendees are not expected to have any prior training in dance with the purpose of the workshop less about becoming professional and more about expression.
"It's not necessarily technical, it's not necessarily demanding it's just creating a spirit at this school to be free and to have fun.
"I hope people leave feeling more confident in themselves and feeling a bit more educated about the life it could be to be up there every night."
But for those of you wondering, Layton stresses that yes, you will "learn some choreography fresh from the West End stage."
West End star
The 25-year-old is hoping to do more workshops when 'Jamie' goes on tour next year, recently tweeting his excitement at being able to teach all around the country.
The workshops are not a side gig for the actor, as he is genuinely passionate about passing on what he's learnt.
"It is the only thing that I can see myself doing other than performing myself. I've not really got anything else, I just fell into it quite young, I was maybe 14, 15 I used to assist the teachers."
Bringing his workshop to Bury is a way for Layton to bring the arts to young people who might not otherwise have the chance or the means to see it as a career path.
"I'm trying to show that this is something that they can do and I always give an opportunity for kids who can't afford it, like I wouldn't have been able to.
"I just say, 'Email us, tell us why you can't and tell us why you should come and I'll help you out the best I can.'"
Layton started his career the way many dream of, by starring in one of the many runs of Billy Elliot in London at the age of 12.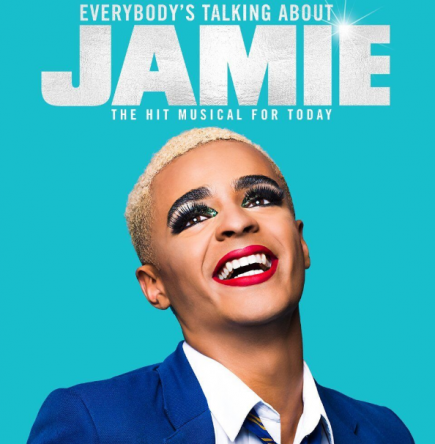 He'd had barely any formal training before he went to open auditions for the play, but was soon practising for the titular role.
Thirteen years on from his West End debut Layton is very aware of the opportunity he has to be the star of a hit play.
"Now I feel like I know what I'm doing, I've been working hard over the years to get to this point. When I was a kid I kind of just went and did it. I didn't think much of it and now I kind of understand the magnitude of it.
"I guess I'm much more appreciative, not that I wasn't, but I just get out there every night and I do not take it for granted."
'Not shading Bury'
For both Billy Elliot and Everybody's Talking About Jamie, Layton portrayed a character who was originally played by a white actor.
He felt this paid dividends at the latest 'Jamie' auditions, where he saw diversity in the lines of people ready to try out for the role.
"Just seeing so many people of colour in it I just thought to myself 'If I wasn't playing Jamie I don't think that would have happened.'
"It really made me proud that the show let somebody like me play the part with no qualms, it was never a question to them."
Alongside his workshops, Layton works with Stonewall UK and last summer called out an Edinburgh theatre for what he believed to be racial profiling.
A couple of weeks ago, for National Coming Out Day he visited a school with Stonewall and Layton feels it is important to stand up for what he believes in.
"I just think it's important to lend your voice if you've got a platform. You can live in a bubble in Manchester, in London. Not necessarily Bury.
"When I go to Bury, I'm like, oh, okay, there's much more to be done. Not shading Bury, I love my town.
"Even my own siblings, even my own family, are like, 'Layton, oh my god' they think I'm offended by everything.
"And I'm like, no guys I'm just trying to educate."
The Everybody's Talking About Jamie workshop will be at The Zone, Bury on November 3. Tickets can be bought via the following link: https://www.eventbrite.co.uk/o/pros-from-the-shows-20034243853