"You start to forget yourself. It was incredible to be reminded of who I am again."
Parenthood is an intimidating prospect for many. New mothers and fathers have to deal with an onslaught of stress, sleepless nights, and overwhelming pressure. In particular, one of the biggest challenges new parents face is loneliness.
New mothers especially are often faced with extended periods of relative isolation, as they tackle their new responsibilities – often with significantly less adult contact than they are used to.
For some mothers, this loneliness can exacerbate postnatal depression (PND) – a prolific and distressing condition which affects over 10% of new mothers within the first year of giving birth.
While the digital age has undoubtedly connected more new parents to various meet-ups, playgroups, and classes, there is still a decided gap in the market: spaces for new parents where babies are not the sole focus.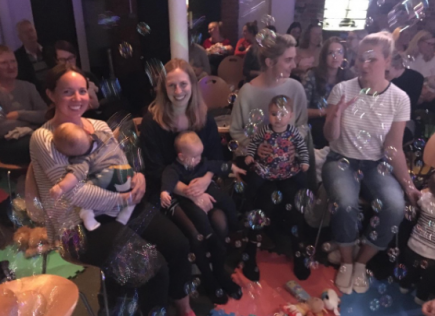 'MUMSIED' NO MORE: Alyssa Kyria and Carly Smallman founded BYOB to reinvigorate mothers who felt they were losing touch with their old selves
This is where Bring Your Own Baby Comedy (BYOB Comedy) comes in. The brainchild of comedians Alyssa Kyria and Carly Smallman, these events are day-time comedy gigs aimed at parents and their babies.
"Baby groups are lovely," says Alyssa, "but they are both all about the baby, and a bit twee and nice sometimes.
"I felt that when I became a mum that I started to be 'mumsied' by a lot of people. You feel like you have to be a mum, and behave like a mum, and go to these groups. And you sort of lose sense of the old you.
"So I love that our shows are a real antidote to that, there is swearing and jokes about sex. Yeah there are jokes about motherhood, but also politics! It's just a bit more normal, we definitely don't 'mumsy' anyone. It's full-on, hardcore comedy."
LETTING RIP
Starting out in 2016 with a tiny pub show in Beckenham, BYOB Comedy has grown to about 20 regular venues across the country, bringing household names to new parents nationwide.
"It combines comedy with parenthood, which is just brilliant. I realised this was what we both wanted to do," explains Alyssa.
"When we did our first shows we were getting such wonderful feedback. A woman came up to us and said 'this is the first time my baby's seen me laugh,' which actually made me cry."
The events allow new mothers to just "feel like themselves again," after their worlds have been turned upside down and refocused in a way that is often a little unexpected.
"It's really important to us that these comics just let rip, and do their usual sets. We're all adults, the babies are under 12 months so they don't know what's going on, they are happy with toys and soft flooring.
Remember when Stefano Paolini was upstaged? Our shows are very chilled so we don't mind being heckled by your babies! Join us at @ClaphamPH on 7th December with prizes for the best fancy dress Christmas baby! For tickets and more info visit https://t.co/gceRBxRHoQ pic.twitter.com/W0DMsTP6We

— BYOB Comedy (@BYOBabyComedy) November 15, 2018
"It's a time for parents to actually feel like proper grown-ups again, not just mums and dads."
One of the new mothers, Larissa, who attended the first BYOB event in Manchester in September of this year, describes the experience similarly, as though she was remembering who she used to be.
"It was so great to hear swearing, and do something for me – without feeling the guilt of leaving my daughter, Robyn, behind. It was just brilliant, I didn't realise how much I needed to feel like me.
"In amongst all the baby stuff, you start to forget yourself. It was incredible to be reminded of who I am again."
The venues themselves are set up to maximise the comfort of the parents and their children. Everywhere is breast and bottle friendly, with buggy parking, and changing facilities. In fact the safe spaces that BYOB create have been recognised by breast-feeding products company Lansinoh for their breast-feeding positive environments.
These extra touches, supporting the logistical side of parenthood come from Alyssa's own anxieties after she had her daughter Lola three and a half years ago.
"I went through a tough time at the very early stages of motherhood. It really is a crazy time that first year. You just have no idea what you are doing, as much as people pretend they do, they really don't. We are all just winging it.
"I was scared to go anywhere new. I was worried if she cried that I wouldn't know what to do, and people might look at me and I would be embarrassed. I was worried about needing to breast-feed, as I was struggling with that at the time. I just did not feel comfortable."
Alyssa knows all too well the struggles of postnatal depression, having suffered from her own bout of PND after Lola's birth. It was a conversation with her "work-wife" Carly as she was coming out the other side of a dark period that the idea for BYOB Comedy began.
WORLD DOMINATION
"Carly came to see me just after I had Lola, and we were discussing how our area in London was in need of some really good comedy.
"She asked me how I was doing, and I was having quite a tough time with PND. We were just chatting about how it is really hard for parents to get out of the house, and it just evolved from there.
"We are both really really passionate about mental health, personally and just generally – we love to help. So we thought getting new parents out of the house, laughing, and meeting other parents – what could be better than that?"
While the concept for BYOB Comedy is strong enough on its own, what is particularly impressive is the actual quality of the acts the events pull in. Jason Manford performed at the inaugural Manchester show, and Jen Brister is set to perform alongside Britain's got Talent runner-up Robert White at the next show at the Lowry in December.
As both Carly and Alyssa are comedians themselves, the standard of the comedy is just as important as the overall events themselves – particularly as some of the shows take place in parts of the country that don't regularly pull in huge names.
"We book the best acts in the country that come to perform, not only are parents getting something fun and a bit different – but they are also getting a taste of the best comedy in the country."
So what's on the cards next for the BYOB Comedy group?
"World domination!" Alyssa quips.
At the moment the pair's priority is expanding to more venues in the North, particularly after the warm welcome their Mancunian debut received.
"The first one in September was unbelievable, the atmosphere, the guests. We want to be in many more places up north as soon as possible, as we've had such a great reception.
"If December goes well again, we'll come back, if people want us! And bring more comedians, more shows. We'd love to expand more in the North.
"We're so excited about the December show, and we are going to put a real Christmas spin on it.
"Carly and I have a Christmas song about how when you become a parent, you don't get any presents! Because your child gets them all. It's a sad truth, it's very true."
Alyssa clocks my age as we chat over the phone: "You sound free and young. Stay that way. It's the harsh reality of Christmas, just giving you a heads up."
BYOB Comedy is at the Lowry Theatre on December 3 at 11.30am. Tickets can be purchased here.