Every 22 minutes a child living in the UK will mourn the loss of their parent.
Though bereavement can prove to be a testing subject for many to talk about, there are significant signs that show that more needs to be done to help the 41,000 children aged between five and 16 years old who lose a parent each year.
For the majority of children, the death of a grandparent is their first experience of a close loss.
With this in mind, the Co-operative Funeralcare in Manchester have teamed up with Child Bereavement, Trauma and Emotional Wellbeing Service (CHUMS) to offer animated films as a resource to medical professionals, community groups, schools and parents aiming to help youngsters cope with the sad loss of a loved one.
Mother-of-three Gail Twist spoke to MM about her first hand experiences with family loss and how she guided her children through the mourning of both her father Alan who lost his fight to cancer four years ago and her mother Shelia who passed away last year from an unexpected illness.
"With the children, they could understand cancer because they'd heard of it before but with a rare condition that no one knows how to cure, it's a different thing," Gail explained.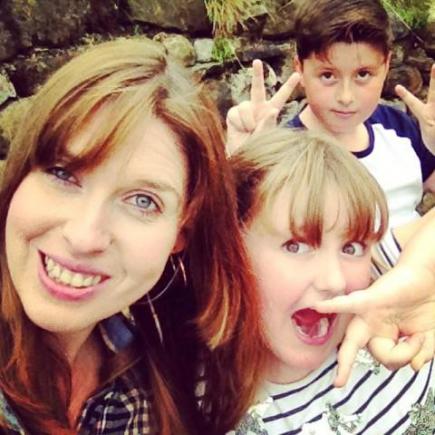 SUPPORT: Gail and two of her children
"They knew that my mum was going to die. I was very open and honest about it, even when my dad died.
"When the time came, they grieved very differently and this was when I realised that there's no real support out there.
"There are things for adults but when you need to help your child through the process when you're grieving yourself there's nothing readily available."
The four animated films, produced by The Angel Studio, include Our Year Since Dad Died and Our Year Since Gran Died and both look at issues young people face when losing a parent or grandparent.
The project follows the positive response to the Co-operative Funeralcare's Amy and Tom books, that were used as a tool for bereaved primary school children, copies were then distributed free to more than 25,000 family liaison officers, schools and parents across the country.
For Gail, the passing of her father enabled her to form a stronger relationship with her mother who grew even closer to grandkids, Eva, Joseph and Ben — almost becoming a third parent.
But tragedy struck the family for the second time when Sheila, 68, died of Creutzfeldt-Jakob disease (CJD), a rare and fatal condition that affects the brain that affects 80 people in the UK every year.
Gail said: "Every weekend she'd come and stay with us and we used to always go out on the weekend, she'd take the kids to school and look after them. She was more than just a grandparent."
"My mum became ill in the May, she couldn't get out of the bath, I had to get the police to knock down the door. She had previously been a very fit, healthy and active lady.
The Poynton mum went described how each of the children dealt with the loss of her grandmother, starting with her youngest 6-year-old Eva.
"She went from being an outgoing bubbly little girl who was the life and soul of the party in reception then in year one she withdrew a lot, she wasn't going to school she was teary all the time," she explained.
"It's been six months and she's only just getting back to herself. She keeps telling me that she misses her nanny.
"Her not being able to understand the sudden wave of emotion, as an adult you can relate to that but as a child she didn't understand why she kept feeling like that."
Like Eva, Gail's 10-year-old son Ben, who has autism, mourned the loss of his grandmother openly and used various techniques that allowed him grasp a better understanding of loss.
"When my dad died we got support from a support group who help families and teachers who have autistic children.
"They were able to give me some support from a visual perspective, it's things like the funeral concept that a child with autism who struggles with change but find hard to understand.
"It was Ben who grieved in the most normal way. He cried, he still cries and says that he misses her."
With the animated films catering to bereaved children making their way across schools and homes around Greater Manchester, mentors at CHUMS hope that the initiative will create a positive impact on the lives of young people.
CHUMS Chief Executive Officer, Dawn Hewitt, said: "We know that grief can feel overwhelming, confusing, painful and lonely. 
"Through the medium of animation, the DVDs can help children and young people relate to their own experience and help them recognise that they are not on their own."
"Schools, community groups and specialised bereavement services such as CHUMS all play an important role in supporting bereaved children and young people.
"Support and resources such as the DVDs can make a profound difference, not only at the time of a child's loss but also for their long term emotional wellbeing and resilience."
Gail revealed how her eldest son, 12-year-old Joseph, dealt with the loss of his grandmother the most reclusively.
When growing up, the 12-yearold was closest to both of his grandparents. Instead of going to nursery as baby and toddler, Joseph was looked after by his grandmother, a factor that believed contributed to his solitary mourning. 
"He didn't cry, he just bottled it all up and wouldn't talk about it to anyone. Still to this point he just holds it in.
"He's always been a good lad but after the loss he started getting very angry losing his temper with people.
"Again you're just trying to help them trying to get them to talk but if they don't want to then you struggle with what to do especially when you're trying to deal with your own grief as well which is still very raw."
Like the ethos behind charities like CHUMS, Gail believes it is essential that bereavement resources are made accessible for children to use as references during times of distress.  
"I thought what a lovely way to help children because they do grieve differently and it's difficult to remember how you grieve when you were a child.
"Because it's free I think it encourages people to talk about death and help children know that they're not alone."