Halloween is typically known for groups of children dressed in homemade costumes, gathered around street lamps holding plastic pumpkins oozing with jelly snakes.
And yet according to Rochdale's leading ghost walker Colin Meredith – who will be hosting a special tour of the town on this eerie evening – the night of the witching hour is a million miles from the town's haunted past.
Tales of coble stone killings transcended across Greater Manchester in Queen Victoria's reign and far beyond.
And the town's folk of old were informed of the chilling reality that 'in those days' there was no time for dress-up.
Mr Meredith said: "Rochdale does indeed have a brilliantly colourful past. My role is ultimately to draw on that for those in search of their lost heritage or those interested to know a little more."
He also toured one of his historic ghost walk on Sunday October 26, a swansong to those wanting to end Rochdale's highly acclaimed Literary and Ideas Festival in frightening style.
The festival celebrated the town's past and present through a rich tapestry of literary voices, led by acts such as the playwright Willy Russell.
It was the second festival of its sort to be toured in the region.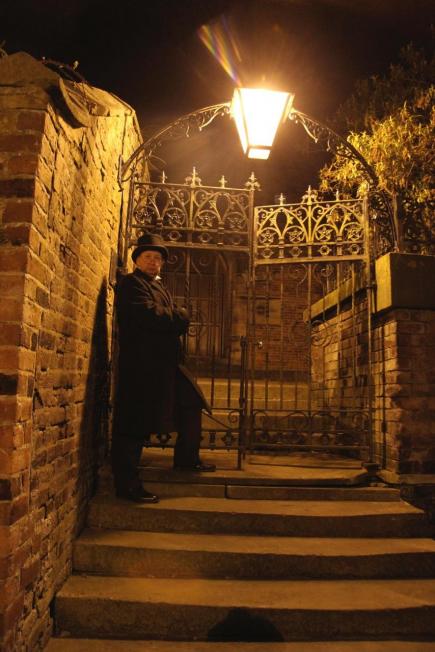 SHADOWY FIGURE: Mr Meredith's ghost walks are ghoulishly good
Mr. Meredith who designs the haunting tours has been educating would-be ghost walkers for four years with Russell Richardson, a fellow spiritualist and paranormal expert.
He said: "We have more than enough stories to get the walks up and running.  All the tales are actually based on a book by John Cole's Gruesome Murders.
"Contrary to some walks none of the stories told on our patch are made up they're all true stories dating back right into the 1800s."
Murders have long held interest in the subconscious within Greater Manchester.
Revolutionary industrial movements swept the country in Victorian towns and on occasion the changing face of Rochdale's roads would be littered with bodies left in situ until the murderers were found.
"Amazingly jury's used to visit the scene of fatal crimes. This played a vital part in this fascination we now associate today with celebrations such as Halloween," the professional and paranormal actor added.
"Taste and attitudes have since changed but what remains is this insatiable appetite of wanting to be connected with the dead!"
The ghost walker competes with the likes of London's supernatural scene where far more tourists dictate this ever present hunger for horror.
The romance of Rochdale's walk, which starts on Bailey Street, draws a decisive conclusion that no matter the size of a city or town, if you were to delve a little deeper it is almost certain an unknown history will be uncovered.
Mr Meredith said: "Places such as the bottom of Yorkshire Street, the station entry, people wouldn't think to venture down there but history will always be down in the shadows.
"Someone once heralded the tour as a taste of murder mystery meets Rochdale's history and I really liked that, I felt it captured exactly this idea that our past runs far deeper than just on Halloween."
The ghost walks of Rochdale take place on the first and third Thursday of every month, which a Halloween special on tonight. For more information click here.
You can contact Colin Meredith directly on his telephone number 01706 710810 or mobile number 0777 4152620. You can also email him on [email protected]