With 6,000 tweets sent every second of the day and more than 200million people browsing the site, it's hard to remember life before Twitter.
From hasthags to top trends, the social media giant which launched in 2006 boasts 232million users and has become a 21st century phenomenon.
But have you ever wondered who tweeted what first? Well, now you can find out thanks to a new online tool.
Who Tweeted it First allows users to look up the first time any word or phrase was mentioned on Twitter.
MM has dug up some of the first posts about Manchester's favourite landmarks and people and here are the weird and wonderful results.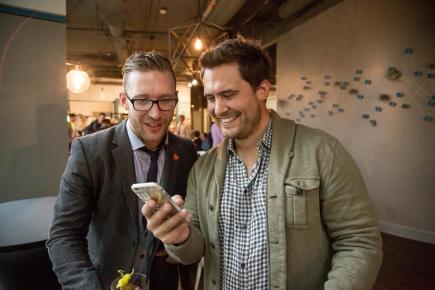 GET CONNECTED: Birds of a feather tweet together
Everyone loves a bargain and this tweeter was so happy with the 'yummy' £1 plums he picked up in Piccadilly Gardens that he just had to tweet about it.
This was the first tweet ever to be posted about the city centre hotspot.
Plums for £1 over in Piccadilly Gardens. They're yummy too.

— Mathew Cropper (@mrtcropper) July 7, 2007
With a whole host of hipster cocktail bars and popular gin joints in the city, punters are spoilt for choice when it comes to heading out for a night on the tiles.
But in 2007, the same Matthew Cropper who picked up the garden Piccadilly plums asked his followers to help choose between a night in the trendy Northern Quarter or the bright lights of… Blackpool.
Northern quarter or blackpool? 😛

— Mathew Cropper (@mrtcropper) August 31, 2007
Well known for its summer hangouts like Dukes22, Castlefield is a popular hotspot in Manchester. However, in 2008, one user was rather let down with the area.
Early Twitter adopter Andrew Denny welcomed in the New Year at the popular joint but was apparently let down by the lack of boat parties…
NY Eve in Manc was a letdown at Castlefield. No boat parties. What did I expect? Should have gone to anal treet.

— Andrew Denny (@grannybuttons) January 1, 2008
Manchester is a proud football city, boasting two world famous football clubs, and in 2006 @charlie_ sent the first tweet about the Reds when he revealed he was watching the match with a well-deserved glass of… soy milk.
in bed, with a glass of soymilk and watching the benfica v. manchester united game!

— Charlie (@charlie_) September 26, 2006
Meanwhile, over at Manchester City FC's Etihad Stadium, the first tweet ever sent about the home ground came from David Speed.
Word is Telstra Dome will be renamed 'Etihad Stadium'…doesn't exactly roll off the tongue…

— David Speed (@davidspeed) October 22, 2008
Not only is Manchester home to world renowned football clubs, it is also the home of some of the nation's best-loved telly programmes such as Coronation Street, which was previously filmed at the well-known Granada Studios.
In 2007, Alfonso Jiménez tweeted his excitement about being at the studios to see the Jeremy Kyle show… in Spanish.
Esta tarde hemos estado en Granada Studios en Manchester grabando The Jeremy Kyle Show

— Alfonso Jiménez (@alfonsojimenez) October 12, 2007
Along with its famous landmarks and roads, Manchester is also famous for its home grown talent.
Oasis frontman Liam Gallagher sent his very first tweet in 2009 whilst celebrating Saint Patrick's day in Japan.
Well, he is a rock and (sushi) roll star. 
In japan, went for a drink last night To celebrate saint Patricks day, gig tonight LG

— Liam Gallagher (@liamgallagher) March 18, 2009
Another Manchester music legend to grace Twitter is Smiths frontman Morrissey, although the singer was quick to point out his first tweet was sadly 'bogus'.
Following the tweet the singer released a statement saying: "I would like to stress that I do not have either a Twitter or a Facebook account.
"I gather that a Twitter account has been opened in my name – as 'It's Morrissey' – but it is NOT Morrissey.
"I do not know who has opened this recent Twitter account, but please be aware that it is bogus. That's, of course, if you should remotely care."
However, the first tweet ever posted about the 55-year-old was from @dan in 2006 who said he was sat in a park cafe while Morrissey was whining in the background.
Coding away at duboce park cafe while morrissey whines in the background.

— Dan (@dan) November 7, 2006
Image courtesy of Keiyac, with thanks.