With the continuing uncertainty surrounding coronavirus and the length of isolation, dating apps have added or expanded their features to keep people looking for a partner – but the growing number of users and matches isn't necessarily resulting in more love.
Apps such as Bumble, Hinge and Tinder have added new options or made typically premium ones, for example, Tinder Passport, free to all users.
People can now 'explore' the world on Tinder, while Bumble lets you speak to anyone in your country, not just the normal 100-mile maximum distance.
"It's useful for me, having lived in a different country for a while," said Tom Bowerman-Wake.
"It's allowed me to practise Spanish while in the UK. I've also made genuine friends through Tinder Passport, who I really do expect to meet up with in the coming months."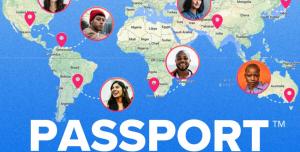 One of the more significant features to have been added across multiple apps is the suggestion of virtual dating, often via video, to encourage users to keep their dating lives active while isolating.
Vas Passaris, who recently went on a virtual date after matching with him on Hinge, said: "It felt like there was a lot less pressure than a real date, fewer distractions around us both than you would have in a bar or pub. 
"I guess what's difficult is that you don't get the same subtle non-verbal signals that you would on a date, with another person's body language."
After her experience, Vas is in strong support of the concept, citing it as a new and exciting way to engage with people you might not otherwise meet while keeping crucial aspects of your life going.
"The atmosphere [of a virtual date] is never going to be as romantic as a real date," said Louise Ferguson, who has been on four virtual dates, although met him in real life.
"I suppose on a virtual date the conversation really creates the atmosphere. Apart from the obvious [difficulties] like poor WiFi, I think the challenge is trying to keep things interesting. The hardest thing is thinking of ideas to keep things fun.
"If you're missing getting dressed up on a Friday night and talking to new people, I think it can be enjoyable."
However, Tom was less certain than Vas and Louise: "I don't think that I would go on a virtual date. I believe that the interpersonal vibe, the tactile contact, the way one holds themselves around the other, it's all pretty vital on a first date." 
Despite the difference of opinion, dating apps appear to be on the rise during this isolation nonetheless. A survey conducted for this article showed nearly one-third of people surveyed had downloaded at least one app during the isolation period.

Additionally, figures provided by Bumble revealed the app saw a 26% increase in messages sent, and 56% in video calls from the period of March 13th through to March 27th, and a 5000-person survey conducted by the app showed 83% of users would be open to virtual dating.
"Physical distancing has shown us that connections made online are just as meaningful as those made in real life," said a Bumble spokesperson.
"Our users are taking advantage of a range of our features to satisfy their desire to connect and stay connected."
Yet while the activity on dating app shows to be increasing, with 64.71% of those who answered MM's survey stating they receive more matches than before lockdown, only half of the respondents said they engage with their matches more than before.
Furthermore, it's unclear as to whether it will remain the case after isolation comes to an end, with passing the time selected by 76.47% as one of their primary motivations on the apps. 
"The aim of these conversations lies in simply passing the time, short term validation, or – more frequently than one might think – in the hope of a getting a quick sexual fix, most commonly the exchange of nudes," said Tom.
"I believe that Tinder would need to provide a separate service to cater for long-distance so not to drive away existing customers," Tom said, of Tinder Passport counting after isolation ends.
Despite the seeming likelihood of a decline in usage after isolation ends, the fact of the current growth in users shows people are attempting to manage isolation in a social aspect, with Hinge showing to be the most popular choice, after 64.71% of people said they had downloaded the app.
As well as its 'Date from Home' feature, which only alerts both parties when they independently agree to the date, Hinge provides an option to view the latest World Health Organisation guidelines beneath the prompt.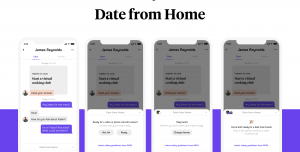 A statement from Hinge read: "Hinge's mission will always be to get people off the app and onto great dates, whether that's in-person or digitally for the time being.
"'Date from Home' is designed to combat this widely-felt apprehension and provide an easy way to signal when they're ready for a virtual date, so they can get off the app and enjoy getting to know each other in a safe way."
Ultimately, dating seems to be one of the few things an individual can keep on doing despite the lengthy isolation, and hopefully will continue to do to maintain a degree of normality. All that is left is to see if virtual dating grows and exists beyond isolation.