When 100-year-old Joe Littlewood's wife died last year, the fear of isolation became all too apparent for even the hardiest of souls.
Loneliness and falls, with no one immediately by many elderly people's sides, are a real danger. In fact 20% of hip fracture patients die within four months and 30% within a year.
So Joe decided to start twice-weekly, 45-minute falls prevention exercise classes around two months ago, which has not only improved his steadiness but also helped his confidence no end.
"We've had three ladies attend in the past who have been 100, but never a man," said Jackie Hanley, Oldham Community Leisure's Senior Health and Physical Activity Development Officer who organises the sessions Joe attends at Oldham Sports Centre and at Bickerton Court, the sheltered housing where he lives.
"It's a wonderful achievement and the fact that Joe is still so independent and even confident to catch the Ring and Ride bus to the supermarket once a week is exactly what the classes are set up to do."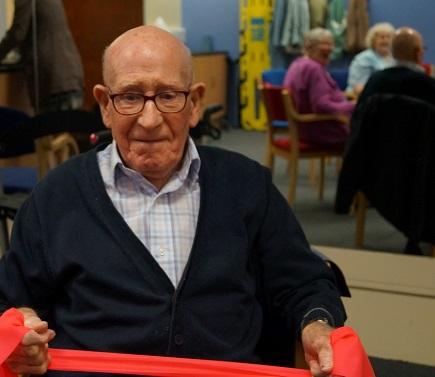 MR MOTIVATOR: Joe's humour and attitude is clearly uplifting to those around him
This comes as little surprise to Winifred even if it was hard to see her father struggle after the death of his wife.
"He's always kept active. He regularly bowled until the arthritis in his knees became too painful and he loved gardening too," she said.
A healthy man, Joe's only medication is a few vitamins each day while he received two knee replacements aged 92.
Joe's case is a rare one however, with a staggering 15,000 people within a town the size of Oldham falling each year and 6,000 falling twice or more. 70 attend A&E each week.
OCL has been delivering free falls prevention classes for 15 years, funded by the NHS and Oldham Council, working in close partnership with Age UK Oldham and the NHS Falls prevention team.
Ten falls prevention classes, with more than 100 places, are run each week across a number of locations in Oldham's six districts, including Oldham Sports Centre and Chadderton Wellbeing Centre, as well as a variety outreach locations.
Participants complete a home exercise class, which the NHS physiotherapy team organise, as well as attending one leisure centre-based class each week.
Although the classes are open to anyone from 60 years old who has been referred by their own GP, accident emergency department or physiotherapist, the majority of participants are in their 80s and 90s.
"The classes aim to improve strength, mobility, balance and flexibility," explained Hanley.
"We teach people what to do in case of a fall: how to get back up safely and how to rise from a chair without use of arms.
"But another benefit is the social aspect. Often participants don't have the confidence to go out alone, so it's a great way for them to meet other people."
All the instructors delivering OCL's falls prevention classes are postural stability trained (PSI level 4) and the exercises are evidence based to be the safest, most effective exercises to help reduce the incidence of preventable falls, minimising the risk of falling by teaching safety skills and improving your mobility.
"The classes have been a great success," added Hanley.
"We have had people attend classes afraid to go out, walking with double sticks or zimmer frames, and over the nine-month duration of the course they have managed to build their confidence so they can go out more and in some cases no longer use the sticks/zimmer frames. 
"Participants have said the classes have given them back their life. They are able to go out alone, be more independent and lead a fuller, happier life."
Oldham Community Leisure (OCL) is a community benefit society responsible for the management, operation and development of 14 sports centres, swimming pools and synthetic pitches in Oldham.
OCL's vision is to create an environment in which sport, active recreation and leisure are integrated into the lifestyle of all Oldham citizens, in order that community cohesion and health benefits are continually improving.