Search trampolining in Europe and you will likely be directed to one of the continent's largest parks, situated right here in Old Trafford.
The concept of a whole arena dedicated to trampolines originated in America in 2004 but only really caught on around 2010 before being featured within popular culture, appearing in magazines and on reality shows such as Keeping Up With the Kardashians.
Then in 2014, Jump Nation was founded in England by husband and wife duo Matthew and Michelle Ball.
They found inspiration from the US version of TV show Supernanny, in which professional nanny Jo Frost had taken some "slightly unruly children to a trampoline park" to let off some steam, according to Michelle.
Although she and her husband had their own full-time careers when the seed was initially planted – Michelle worked with Lancashire Constabulary for 12 years as a police officer while Matthew was a businessman – it was pretty much love at first sight.
"When we saw it, we wanted to go and visit one ourselves," Michelle told MM.
"I had a look around the UK and there wasn't a single one in existence at that time so it seemed like an obvious venture.
"It planted a seed which started to grow. Eventually we put together a business plan, raised the investment and Jump Nation was born."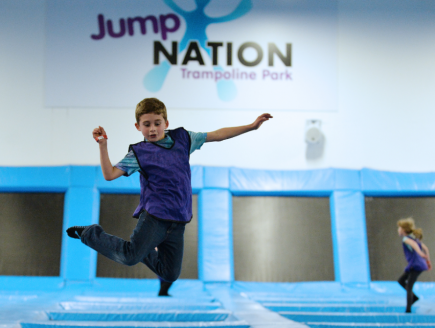 ACCESSIBLE TO ALL: Whether you soar or slip up, trampolining will put you in shape and get your pulse racing
Matthew's background and experience as a businessman, according to Michelle, was also largely responsible for the pair deciding to undertake this new venture.
"He's been absolutely fundamental in the setup of the business and it being the success that it is," said Michelle.
"He had a lot of experience in business before we started the company so I very much took inspiration from him."
Matthew and Michelle's new business venture more than surpassed expectations, operating at 95% capacity within the first few weeks, 55% higher than the duo had first predicted in their initial business plan.
Michelle added they were blown away with how popular the concept was and had to take on extra staff within those first few weeks in order to keep up with the demand.
"It was a little stressful to begin with until we got the staff in place," she said.
"But it was still a very nice problem to have."
Not only was Jump Nation Trafford Europe's largest jump arena before the Balls opened another centre in Walsall earlier this year, it's also the only trampoline park in the UK to receive a TripAdvisor Centre of Excellence award.
Given there are 85 other trampoline parks in UK, it's just another impressive accolade for Michelle and Matthew.
"A clear vision sets you apart from competitors," was how a grateful Michelle summed it up.
On the back of the success that Jump Nation Trafford has been enjoying a site is being opened in Runcorn as the Ball duo seek to stay ahead of their many competitors.
And Michelle said there is a straightforward reason behind the success: sporting talent or skill becomes irrelevant when you are simply bouncing around on a trampoline.
"It is an activity that is accessible to all – it isn't too specialist and everybody can have fun whether they are good at it or not."