Greater Manchester has a rich social history, but did you know that it can boast the title of the city that launched the most celebrated career in British public life?
Winston Churchill – serial prime minister, Nobel Laureate and founding father of much of what we hold dear today – began his illustrious career in Greater Manchester. 
And even less well-recognised is the fact that Churchill had a real soft spot for the Manchester area that stayed with him throughout his long and spectacularly eventful life.
2014 was the 50th anniversary of the death of the man who was also made a freeman of Oldham (1941) and of Manchester (1947).
More widely, Churchill's status as the BBC's standout candidate as the Greatest ever Briton suggests that the affection for him never went away.
Churchill, who served as an ambitious young MP in Oldham and Manchester North West, was effusive in his many retrospective diaries about his strength of feeling for the area and the people of Oldham in particular, describing them as impossible not to like, admire and respect.
But for all his larger-than-life public persona, Churchill was also a man with an insatiable appetite for life – literally as well as figuratively.
Churchill's capacity for fine food and drink has become the stuff of legend, as has his appreciation for a good cigar. He was not a man who did anything by half.
For example, as a young man, Churchill went about the business of finding a wife with that same concentrated energy as he was to apply in all other areas of his life.
He made no fewer than five proposals to different candidates before he was finally accepted by the woman who would remain by his side for the rest of his days.
Lady Clementine bore five children – Diana, Randolph, Sarah, Marigold and Mary – and outlived her husband by a matter of 12 years.
The pair are said to have enjoyed a close and happy marriage despite the huge demands of public life.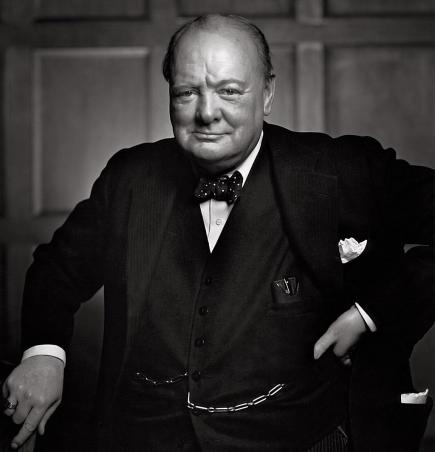 In his leisure time, aside from his huge literary output which was part-work, part-hobby, Churchill was also a terrific gambler.
He is said to have often played games of poker, bezique, mahjong, and pinochle. Whilst that hobby occasionally saw him win spectacularly, it also saw him frequently outfoxed by more conservative opponents.
Some of his play has itself become the stuff of legend – not least his summit-meeting game of five card stud poker with US President Harry S Truman in 1946.
By the standards of high-level American diplomats, it seems Churchill was no great shakes at the game and was in danger of being seriously embarrassed as a 'pigeon'.
Fortunately for British honour on that occasion, Truman and his staff quietly agreed to 'go easy' on their guest.
During the 1930s, Churchill also dabbled in horse racing and kept a small stable of runners. But his enthusiasm – for once – seems to have been only intermittently sparked – although he may have had other things to think about around that time.
With his political career behind him, Churchill took up painting watercolours – a hobby that he had adopted far earlier in life as a way to escape the rigours of his day job.
He is said to have produced over 500 different works.
Although his daily routine was by no means conventional, he also devoted considerable energy to his family, to maintaining a menagerie of cats and to restoring a property he had found deep in the Kent countryside.
Chartwell is still a name synonymous with the Churchill legend in a way that tourist attractions in Manchester and Oldham will never match, although it is the latter that were intrinsic to the phenomenal success that Churchill was to enjoy at the peak of his career.
For what it's worth, great things are predicted for Manchester's tourist industry in the years ahead.
Biographer William Manchester (really!) attributes Churchill's time in the North West with softening his previously patrician view of his fellow men and of making him a more rounded, more sympathetic leader.
And recognising that transformative period in his life, Churchill was happy to acknowledge that the time he had spent in the north west had given him exposure to a group of people – ordinary men and women – whose good humour and unfailing optimism was something he was happy to laud at every opportunity.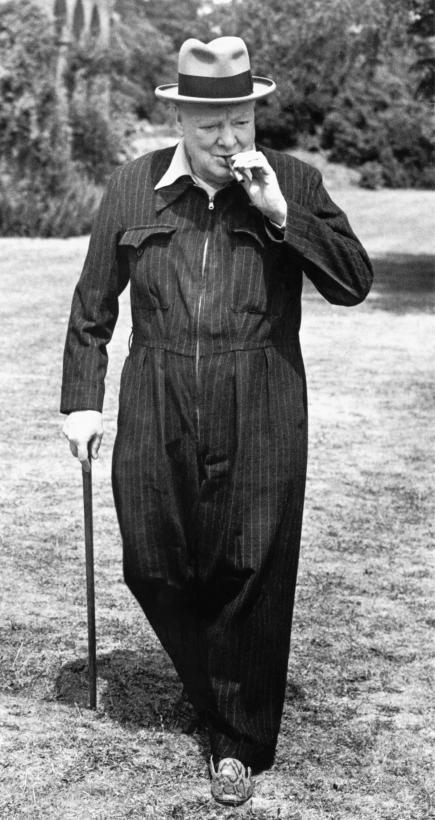 Churchill has also been credited as a fashion icon.
The Daily Mirror, for example, has celebrated Churchill's famous wartime boiler suit as the inspiration for the onesie.
No doubt the great man would chuckle at the thought, but that enduring fondness is a testament to just how prominent a figure he remains in the public imagination.
Churchill already has a place in Westminster Abbey and there is a statue in his honour in parliament Square.
If such an honour existed, Churchill would surely make the list as an honorary Mancunian.
He perhaps warrants some grander and more celebratory monument than the simple blue plaque that hangs on the wall of Oldham's town hall.
Image courtesy of Yousuf Karsh, via Flickr, with thanks