Greater Manchester Pension Fund (GMPF) have £1.3 billion invested in 'risky and unethical' fossil fuel companies equating to £477 per resident according to new figures.
The figures, released last week show the GMPF to have the largest amount invested in fossil fuels of any local authority pension fund in the country.
The data was discovered through research by 350.org, Platform, Friends of the Earth and others which shown that overall, the 192 councils in the UK have £14billion invested in fossil fuels via pension funds.
Ali Abbas, Co-ordinator at Manchester's Friends of the Earth described the data as a shock and said that pension fund members are at risk if investment in fossil fuels is to continue.
He added: "It's not just an environmental and health risk for people in Greater Manchester, it's also a financial risk to pension scheme members."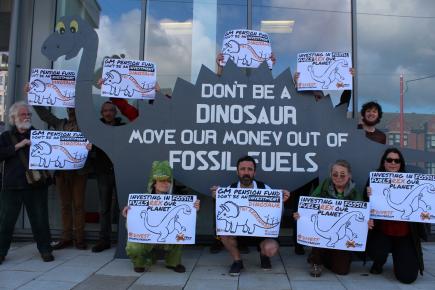 'SHOCKING': Manchester Friends of the Earth co-ordinator said fossil fuel investment is an environmental AND financial risk
A Californian public pension fund lost over $5billion on their fossil fuels investments last year alone.
Fossil Free Greater Manchester, a grassroots movement, responded recently to the data release by campaigning outside the Greater Manchester Pension Fund's offices with other supporting groups.
Fossil Free Greater Manchester are part of a growing international movement calling for institutions to divest from fossil fuels and take action against climate change.
The campaign, in which the group brought along a giant investment dinosaur, took place on September 24.
"We had a big dinosaur to send a message to the pension fund that they shouldn't be a dinosaur and they should move their money out of fossil fuels," said Mr Abbas.
The campaigning group handed in a letter to the Pension Fund which draws upon the Pension Fund to consider their code of ethics when it comes to their investments.
Chris Smith, Spokesperson for Fossil Free Greater Manchester said: "We recognise that this is going to be a marathon not a sprint.
"We made a big splash and we are confident that we'll be able to enter into discussion with the Greater Manchester Pension Fund and go from there."
The Greater Manchester Pension Fund, who looks after 340,000 members, responded to the figures by saying the fund does consider environmental risks when choosing its investments.
They added, however, that issues relating to investing in fossil fuels are exceptionally complex and they currently have no plans to disinvest from fossil fuel companies in the medium term.
ShareAction are a UK charity that promote responsible investment by pension funds and gives savers a voice in the system.
The charity are currently running a campaign #IWantToBreakFossilFree which enables a fossil free saving option willing savers to opt for a low cost pension.
They said it is important to consider that people looking after investments and managing the money have a duty to the savers which has to be considered amongst possible environmental risks.
However they welcomed the data and said it is valuable because it increases transparency in the system for savers.
Mr Smith for Fossil Free Greater Manchester said: "People's pensions are wrapped up in an industry which is going to undergo a fundamental revaluation.
"That poses huge risks and so we are not only putting forward the financial argument to Greater Manchester Pension Fund based on this news, but also the moral argument as well."
Fossil fuel stocks are becoming increasingly stranded assets because their valuations are based on the idea of burning through all of their available resources.
"If you look at the impacts of fossil fuels on climate change then investing in fossil fuels is making climate change worse," explained Mr Abbas.
It is estimated that fossil fuel companies hold 5 times more resources than they can burn if we are to globally meet the internationally-agreed safe limit of 2 degrees Celsius.
"Pensioners don't want fossil fuels to ruin their pension and they don't want their pensions to ruin the planet either," said Mr Smith.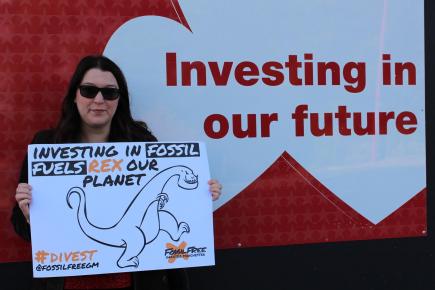 'REAL BLOT': The Divestment Network Co-ordinator says this investment tarnishes Manchester's green credentials
Ellen Gibson, UK Divestment Network Co-ordinator at 350.org, said: "For a city which prides itself on its green credentials and does such valuable work on sustainability, these investments are a real blot on Greater Manchester's record.
"It is time our public pension funds in the UK stood up for their workers' money and their citizens' futures, and joined the divestment movement."
Globally, divestment from fossil fuels is a growing trend with over $2.6trillion worth of funds already committed to divesting, when the figure stood at just $5billion the year before.
Fossil Free Greater Manchester remain optimistic and look to the future saying the money taken away from yesterday's technology – fossil fuels, can be used in tomorrow's technology – renewables and energy efficiency.
Mr Smith added: "Greater Manchester led the industrial revolution on the back of fossil fuels – and now it's time for us to lead the world out of the fossil fuel era."