Moving to a new place is never easy, and finding your feet as quickly as possible is vitally important.
Alongside growing familiar with the surroundings, getting to know new people can help to ease the settling in process.
Crucially, within Manchester, there are a wide array of different options available to help newcomers become accustomed to city life, while also making new friends.
From meetups for people with shared interests to digital warm-up options and various courses, there are several unique ways of growing to love the city that's generally referred to as the capital of the North West.
As a result, we're going to outline some of the more irregular methods of meeting new people in-and-around Manchester.
Meet-ups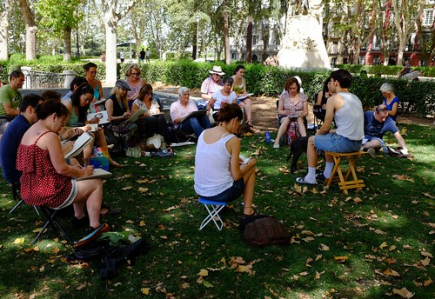 Creative meet-up classes are a great way to make friends in a new city (image courtesy of Neil Cummings via Flickr, with thanks)
In recent years, meet-ups have become increasingly common. Upon moving to a new home, there are numerous hurdles to overcome before you can truly feel settled. That said, through looking to interact with people who share similar interests, many of those initial nerves can soon disappear.
Making new friends by immersing yourself in an activity, movement or topic that you're passionate about can have a monumental impact on both your happiness and mental health.
Furthermore, as approximately nine million people in the United Kingdom admit to regularly feeling lonely, putting yourself out there and building healthy social connections can assist in relieving stress and isolation, particularly in unknown surroundings.
Due to the growth of online meetup platforms, there are groups available for people who may have niche interests.
For example, if you're fascinated by vampires, The Crypt, a Manchester-based group, is a space for those interested in vampiric culture, history, literature and more, that comes together in a welcoming environment.
Moreover, as the city has a rich heritage in sport, and predominantly football, getting involved has arguably never been easier. Regardless of age, gender, race or sexual orientation, the many available leagues highlight the city's efforts to increase diverse participation.
Although sport may not be for everybody, whether you're passionate about animals, coding, finding your musical soulmates, life-drawing classes or anything else, meet-ups are a unique way of settling into your new home, while also actively getting involved within the community.
Options for shier people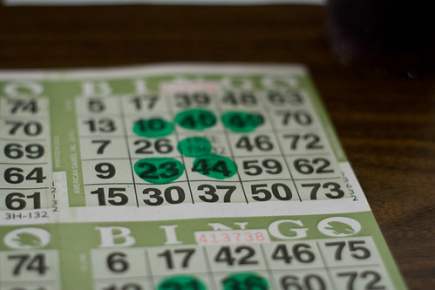 Bingo can provide more subdued opportunities for those wishing to socialise (image courtesy of Sarae via Flickr, with thanks)
While it may be easier said than done to throw yourself into new social groups, digitalisation has ensured that shier people have a platform through which they can ease themselves into community activities.
For instance, since the 1980s, bingo has slowly become increasingly popular in the UK and, as a result, numerous bingo halls have emerged throughout Manchester. However, there are also many other options for those who prefer an online approach.
For example, at womans bingo site 888ladies, users can join online newbies rooms to enhance both their confidence and in-game skills. 
The rooms themselves are only open to players who have registered within the previous three days, meaning that those participating can familiarise themselves with bingo at a similar rate.
Moreover, like meetups, it also encourages social interaction with other users over a shared hobby and, additionally, the newbies aspect of the platform doesn't require a deposit.
For those who are more tentative over meeting up in person, online bingo presents the perfect opportunity for perhaps less confident players to get involved with the community.
While the foundations of bingo have remained very traditional following its rise to prominence, the modern-day has led to the revival of the numbers-based game. However, in recent years, it has been revamped to appeal to millennials.
At the Albert Hall, Bongo's Bingo is frequently available and has become a catalyst for changing the outlook of the nightlife scene. Unlike the classic version of the game, it's about far more than just marking numbers.
Between quick-fire rounds, the hall becomes a party venue which plays the latest club hits, but when the music stops, the bingo once again resumes. Although it won't appeal to everyone, this modernised version of the traditional game combines participation with social engagement and, for some, offers a seamless way of acclimatising to Manchester.
Language courses
From an educational standpoint, language courses present a unique way of meeting new people, while also developing the necessary skills to interact with people from across the globe. Much like meet-ups, there are many advantages to language courses.
Alongside networking with others, classes such as these are usually smaller in size. Over time, this can lead to the creation of friendships and a far more comfortable environment.
Furthermore, learning a new language can significantly affect various individual attributes such as brainpower and memory, with consistency and familiarity being key to becoming bilingual.
Moreover, focussing on a foreign language can also improve your grasp of English through the analysis of application and structure of vocabulary.
Back in 2013, Manchester was revealed as the most linguistically diverse city in Western Europe, with approximately 200 languages being spoken at any given time.
As a result, aside from being educational, becoming bilingual is integral to modern-day communication. With Manchester growing increasingly multicultural, having a broad understanding of vocabulary ensures that social opportunities aren't limited.
Additionally, while meet-ups may typically bring people of similar age groups together, language courses possess the ability to unite individuals of all different ages, and this can be beneficial in a learning environment.
As each person learns differently, having a real mixture of experience and personalities can ensure for strong moral support on both an educational and personal level.
What will you choose?
For many, attending meetups, going on languages course and playing bingo may not appear beneficial at first, but each option offers something for everyone.
Whether you're looking at broadening your horizons or wish to find like-minded people who share similar interests, the opportunities are greater than ever before in Manchester, especially with digital platforms providing those who are less confident with the foundations for communal involvement.
Settling into a new location is never easy, but these unusual methods of meeting people can make the process feel far less isolating. Ultimately, whoever you are and whatever you're into, the capital of the North West has plenty on offer to ensure a quick settling-in process.
Image courtesy of Practical Psychology via YouTube, with thanks.