A group of volunteers has been cleaning up the area's parks, green spaces, and woods since they were founded in 2018.
The Wythenshawe Waste Warriors hope to make Wythenshawe 'litter free' and have have filled nearly 9000 bags of litter this year.
Now volunteer Kyle Dodd, 34, has used his tech skills to develop an app to help with the group's work.
Dodd was inspired to join the group after seeing members restoring a footpath and planting wildflowers in the field where he walks with his daughter.
"I was so inspired about what John-Paul and the rest of the volunteers were doing, I just got talking to them – I think after that conversation I left with a hoop, a [litter] picker and a bag."
The app, funded by Dodds' employer Fletchers Solicitors, helps volunteers complete common tasks such as reporting fly tipping, and mapping areas in need of upkeep.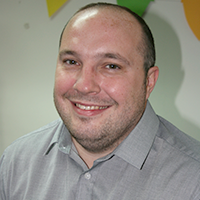 John-Paul Coe, chairperson of the group, said: "We've had some wonderful support from Kyle, who's taken it to the next level."
The group is using old maps and other technology to assist with uncovering lost pathways, six miles of which have already been discovered.
"Some of it was neglected and overgrown for 20 years," Coe added.
The group is using Dodds' app to map the lost walking and cycling routes, which they term the 'Wythenshawe Greenway.'
They hope their work will help with establishing regular maintenance schedules to the routes.
Dodds wants to encourage others to get involved locally.
He said: "After a few weeks of litter picking, when you see a space go from a fly tip into greenery, and then when spring hits when you see flowers growing where rubbish was once there; for me, how inspiring is that?"
More information about how to get involved with the Waste Warriors can be found on their website.