How much do 11,800 elephants weigh? Want to take a guess?
It's 59,000 tonnes, equivalent to the weight of the reusable clothing that Mancunians throw away every year.
Between us we buy 90,000 tonnes of new clothing a year, with 1.4million tonnes of clothing and shoes sent to landfill annually across the UK.
But a London Fashion Week designer joined 60 youngsters and students from across Manchester to celebrate recycled fashion last week at the Museum of Science and Industry.
The two-and-a-half hour catwalk on Thursday was the fourth upcycled fashion show in city to be hosted by Recycling for Greater Manchester, and titled Rethink Fashion.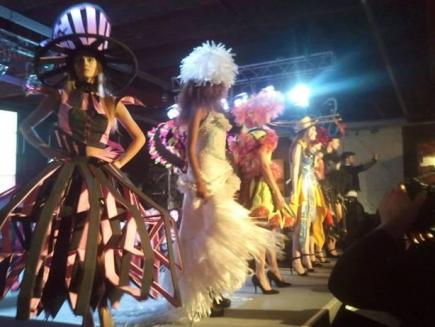 RETHINK YOUR RUBBISH: All of the outfits were made by upcycling what otherwise would have landed in the bin
Adnan Bayyat, a Manchester designer and London Fashion Week starlet, headlined the show with avant-garde dresses and head pieces, all created using upcycled materials.
He told MM: "Upcycling is using material you already own and being imaginative with what you have.
"The children have just taken the project in their stride. To make a full collection of 60 garments is a daunting task for a fashion designer let alone a ten year old child.
"You can use anything to make clothes, it is so easy, so simple. I think we are just so frightened of actually putting our hands to the sewing machine because it is a new machine to a lot of people.
"I am having to bring people out of retirement to do my collections because the youth of today do not have the skills.
"We need to get back to that, buy British, it's part of who we are. We have a huge heritage of manufacturing here in the northwest, we are in the epicenter at the science and industry museum."
Adnan has been featured of CBBC and designed for Lady Gaga. His 42-piece collection took three months to complete and was made using paperclips, plastic bags and re-dyed linen.
He began designing when his grandmother gave him a crochet hook and advised him to give up his life as a musician and to try something visual.
"I couldn't afford wool and material so I used what was around and was commercially viable", he said.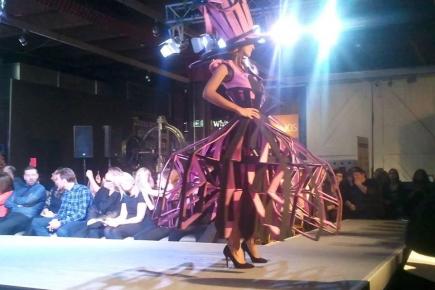 NOT ON THE HIGH STREET: You're unlikely to fine these upcycled dresses in Topshop
His first design was a dress made for Sainsbury's orange plastic bags, he showed the design to them and they snapped it up for £2,500.
Adnan spent three days working with 60 students from Manor Green Primary School Denton, and Dane Bank Primary School, Stockport for the show.
The ten and eleven year olds modelled their own 'poppy' themed designs to celebrate Remembrance Day, including a face mask and a variety of rose and bow decorated dresses, all made with plastic.
The show also featured the work of fashion students from Manchester Metropolitan University and Manchester College.
Karen Hall of Recycle for Greater Manchester said: "The key message is we do not want to waste textile or throw clothes in the bin. Hopefully our designers and stall holders will inspire people to get creative."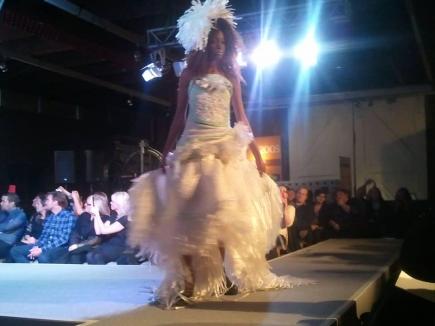 STRIKE A POSE: Avant-garde dresses and head pieces were in abundance
The student's used reclaimed 60s' and 70s' clothes and upcycled fabrics such as curtains and old bed covers with a variety of designs; a Teenage Mutant Ninja Turtle was even spotted.
Businesses Junk Shop, Oxfam, Pop Boutique and Powdered and Waisted corsets also showcased collections.
Local designer Josephine's dress featured a number of huge princess style dresses using thick floral curtain style material and lace trims that would fit perfectly in any Elizabethan period drama.
Councillor Elaine Sherrington, Vice Chair of Greater Manchester Waste Disposal Authority said: "We hope the show has inspired residents to rethink fashion by upcycling and making the most of their wardrobe."
GMWDA provides recycling for one million households across Greater Manchester and handles around 5% of England's Waste.
VLGM provides treatment and disposal of waste to increase levels of recycling, composting and reduce the amount of waste sent to landfill.