Manchester Airport rewarded a lucky customer with a plethora of prizes last week, after he became the 22millionth passenger to check-in in a year.
Harry O'Connor, from Newcastle, received access to the airport's Escape Lounge, £250 in duty-free vouchers, Fast Track passes, and tickets to Miami.
The 37-year-old, who was on his way to Barbados with partner Lydia Robinson, said the reward was an 'incredible start' to his holiday.
He said: "I am absolutely delighted to be Manchester Airport's 22nd millionth passenger and what an incredible start to my flight."
Manchester Airport passed the milestone in the year leading up to January 2015, the first time the airport has done so in eight years.
The number of passengers using the airport each year has increased by almost a quarter since 2010, with Manchester Airports Group (MAG) attributing the growth to support from partnered airlines and the size of the airport's catchment area.
Ken O'Toole, Chief Commercial Officer of Manchester Airports Group (MAG), said: "Manchester Airport's significant growth is testament to the critical role it plays in UK aviation, providing the North of England and our extended catchment area with global connectivity through an unrivalled network of short and long haul destinations.
"We have more than 22million people living within two hours of Manchester Airport and our continued addition of new routes and increased frequencies is seeing customers choose Manchester, rather than other airports.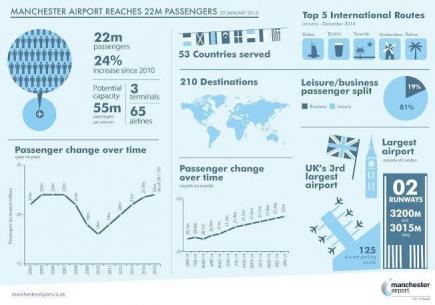 "With more than 65 airlines and over 210 routes from Manchester, there is huge choice for passengers, whether flying on business or pleasure.
"2015 is set to be another busy year for the airport and we look forward to adding even more routes to our offering."
Manchester Airport offers flights to 210 international destinations, with popular locations including Dubai and Dublin being accompanied by recent additions such as Hong Kong and Jeddah.
Thomas Cook Airlines, who awarded Mr O'Conner with returns tickets to Miami, indicated that they will continue to be part of this growth with new routes to Miami and New York being announced from May.
The group's Chief Airlines and Hotels Officer, Christopher Debus, declared that it was 'fantastic' to be part of the success story at Manchester, and that they were 'looking forward to more success'.
This success is also good news for the local area as a combination of nine local councils own shares in the airports operator, MAG, with Manchester City Council holding a 35.5% stake in the group.