A new Manchester street food venture left traders with a sour taste in their mouths as miserable weather made the event a wash-out and forced them to take home 'up to 90%' of their stock.
London's popular Urban Food Fest event finally arrived in the north on Saturday night – only to be met with a typical Manchester welcome as blustering winds and pouring rain put a dampener on the evening.
Critics claimed that the event was badly promoted, while fans argued that when you're trading outdoors in Manchester, you've got to expect the elements.
Jessica Tucker, founder of Urban Food Festival told MM: "We've been doing this for two years now and it's just the nature of the business.
"With street food – like with any restaurant, club, or bar – you're at risk of people just saying 'let's stay in and watch X-Factor' when it rains. It's just one of those things."
Manchester-born Jessica, who pioneered the successful London foodie fixture disagreed with claims that the event was promoted well enough, saying 'we've actually had loads of publicity; big billboards across the city, a huge social media presence and coverage across all the press."
So @UrbanFoodFest was hilarious. Unless you were trading. Really feel for the traders taking 90%+ of food home. Disastrous organisation :/

— Honest Mike (@mikeinmcr) March 1, 2015
I have to agree with some of the negative tweets re. last night's @UrbanFoodFest; it was poor compared to @beatstreetmcr & @Guerrilla_Eats

— Carolyn (@cazgar) March 1, 2015
@mikeinmcr @UrbanFoodFest no idea pal couldn't believe it myself, they've spunked a load of money on a huge ad banner campaign but missed…

— Dirty Dogs (@dirtydogsarehot) March 1, 2015
@mikeinmcr @UrbanFoodFest the important bit of informing people who's trading, I suspect they've been choping and changing the line ups

— Dirty Dogs (@dirtydogsarehot) March 1, 2015
Jim Khor, owner of popular Broughton Malaysian takeaway restaurant Nasi Lemak, was trading on Saturday and said that if it wasn't for the weather, he would have had a great night.
"For me the problem was my generator. I was doing well with the rain and winds –customers even came together to hold down my gazebo so we could free our hands to cook!"
He criticised the London approach to advertising and promotion, saying that more is less up here in the North.
"As a Manc trader used to Twitter being the main channel of advertising, I find putting up expensive nylon at prominent town spots and press releases through radio a bit too fancy," he said.
"An improved use of Twitter would have cost less and done a better job."
'Sultan of sausage', Richard Brown, co-owner of Chadderton-based Bangers & Bacon was also trading at the weekend, told MM he'd been to the London events before, describing them as 'absolutely phenomenal'.
"To be honest, it was quite a nice event in regards to how it was set up. The worries we had were initially with the number of traders," said Richard.
"And while there were a few too many traders, the biggest thing against us was the weather. It was absolutely appalling, unfortunately, and really high winds because of the location. So because of that, it wasn't quite as busy as we wanted it to be."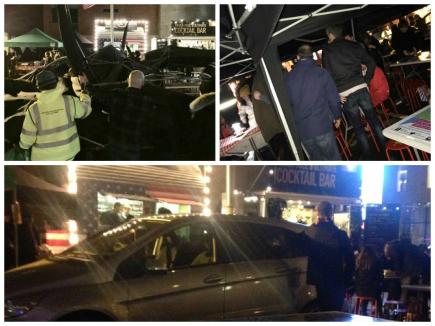 'DISASTROUS': The eventful evening saw the event work itself around a car which had been left on-site before the festival began, along with punters witnessing a dangerous gazebo collapse 
(© Honest Mike, with thanks)
Richard, who has been cooking up his quirky combinations of sausage and mash for years, is no stranger to catering.
He told MM that despite only selling around 60 portions of the 100-150 they had prepared, he reckoned if the weather had been kinder, they could have done 'double, if not triple that'.
Many on Twitter blamed the small turnout on poor marketing, and Richard added that tapping in to the 'Deansgate Locks crowd round the corner' is the logical next step to drive the food festival forward.
"But it's difficult to run an event like that at this time of the year," he said.
"You know, at the end of the day we're outside in the elements – nobody else in Manchester has done that at this time of year to my knowledge. Friday Food Fight is inside, Guerrilla is inside, Grub is inside – so unfortunately it was us versus the elements."
Image courtesy of Honest Mike, with thanks