Holiday-goers will be waltzing off to Austria as direct flights from Manchester Airport to Vienna have been unveiled by Jet2.
Over 8,000 people have already booked seats on the flights to the Austrian capital, as the maiden trip took place earlier today.
No other direct route existed outside of London prior to the new venture, making Manchester's airport a prime travel spot for keen European enthusiasts this summer.
David Neill, Head of Jet2.com's planning, is delighted with the new Austrian destination and feels it will fill a gap in the market.
"Vienna is one of the largest un-served European resorts and it appeals to lots of customers, businesses and travel, it's a great city and I know what is has to offer," said Mr. Neill.
"People are used to regular city breaks such as Rome or Paris, and we wanted to offer somewhere different."
The flight will operate three times a week on Mondays, Wednesdays and Fridays with a late afternoon flying time of 2:15pm with prices from £43 per person, including taxes.
Stephen Turner, Aviation Commercial Director for Manchester Airports Group (MAG), told MM that the airport conducted regional customer research and found that Vienna was a top destination that people wanted to travel to from Manchester Airport.
"We're delighted that Jet2.com continues to grow from Manchester Airport," said Mr Turner.
"Including Vienna, Jet2.com now has a huge choice of 43 routes, expanding the city breaks destination choice even more for our passengers."
Guests invited to the launch were fortunate enough to experience a behind-the-scenes look of how the airline operators.
This included the check-in process of the trip where passports were scanned and luggage labelled as well as hearing the crew's current catchphrase 'have a happy holiday'.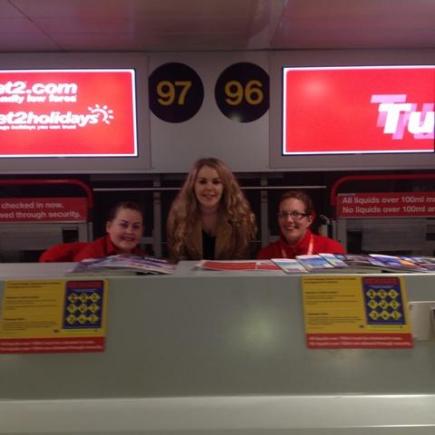 CHOCKS AWAY: MM reporter, Olivia Wheeler, get's to grips with the checking in process
Many watched as the first flight took off with around 120 passengers on board.
Passengers on the maiden flight were treated to a cultural experience of Viennese whirls, twirls and swirls with biscuits and professional dancers providing entertainment.  
There was a performance from dancing duo, Leah Lee-Nelson and Andy McGuire, as they danced a Viennese waltz in Strictly Come Dancing style and were from former Apprentice star, Francesca MacDuff-Varley's, entertainment company The Dance Mob.
The new flight also offers a package holiday for customers where, jet2holidays.com, provide flights, hotel and airport transfers.
Steve Heapy, CEO of Jet2.com and Jet2holidays.com, said: "The new flight gives our loyal customers even more choice when planning their cultural city breaks.
"Vienna is a truly exciting destination, famous for its imperial sights, coffee houses, cosy taverns and the very special Viennese charm."
This is just one of the four new flight paths the company are offering with other destinations flying to Bergerac, Jersey and Fuerteventura.
For further information about Jet2.com or to book a flight to Vienna, or any other gorgeous location, visit www.Jet2.com.
Image courtesy of Jet2, with thanks