A granddad-of-seven is celebrating 65 years of serving up the best cuts of meat for his loyal customers, making him the oldest butcher in the country.
Gerry Ambrose, from Miles Platting, Manchester, has served more than 2,000 kilometres of sausages and a million steaks during his meaty career.
Having started out as an apprentice in 1949 at the tender age of 16, Gerry went on to own and run a successful Salford-based butchers and has worked behind the meat counters at Asda's Trafford Park Supermarket in Manchester for the past seven years.
But despite turning 80, Gerry says he doesn't plan to hang up his apron anytime soon.
"I love the job I do and I wouldn't change anything about it, so quite simply that is why I'm still working at the age of 80 and I'm not thinking about retiring," he said.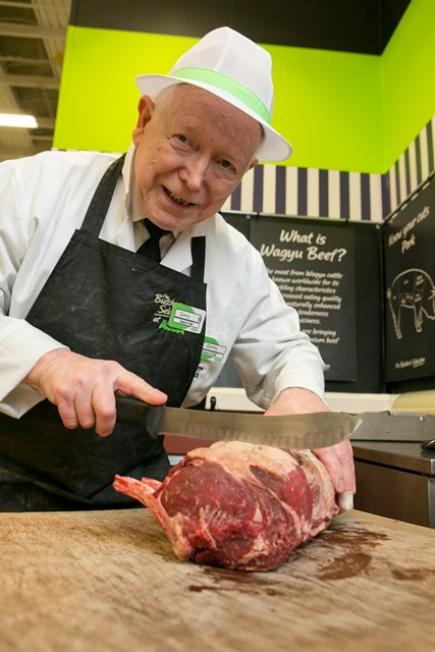 CHOP TO IT! Gerry gets to grip with a joint of beef
"My favourite part of the job is working with the public. It's great to give them worthwhile advice and I love working for Asda now.
"I had my own shop in Salford for many years and I built up a good reputation, so being able to assure customers of the high quality that Asda sell is important to me."
One of Gerry's regular customers, Ed Pearson, travels nearly 20 miles from Warrington to buy premium Japanese Wagyu beef specially prepared by Gerry.
He said: "I can't believe he's 80 to be honest! He's a great butcher and a really nice chap, too."
Brian and Alison Ennis from Salford in Greater Manchester are also loyal supporters of the grandfather-of-seven.
Brian said: "We've known him for years now and he's served us many a time in here. He's always happy at his work and is one of the best around, that's why we come here."
Gerry said his favourite type of meat is quality rump steak and he recommends Sirloin as the best meat for the perfect Sunday roast.
He also gets a healthy helping of pasta at home, which he says is his favourite grub, from his Italian wife.
Gerry, who has four children and seven grandchildren, says that years of eating well is what has helped him to stay fit and healthy.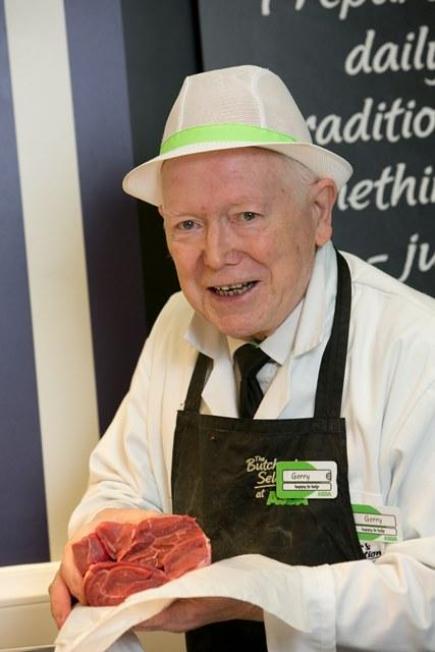 'GREAT BUTCHER': Gerry's heart lies in the butchering industry
"Things haven't changed too much over the years – traditional meat crafting skills are still just as important today, as when I started; and so is working with high quality meats.
"I suppose no butchers in this country sold Wagyu beef when I was an apprentice, but since Asda started selling it a couple of years ago is has become very popular and we hand trim it in store to make sure customers get the best cuts and value for their money."
As well as being a hit with the customers, Gerry is also a favourite with the Asda Trafford Park store bosses.
Store manager Jason Teens said: "There's never a moment when he isn't happy to share some of his years of advice, be it on the difference between fine cuts of beef, or on how to prepare the crunchiest crackling and how to cook the most succulent chicken.
"The number of regulars he has alone just goes to show he certainly knows his brisket from his shank."
Jim Viggars, who is Head of Meat Quality for the supermarket chain, added: "Gerry's long and successful career is an outstanding achievement – and his passion and experience embodies everything that a great supermarket butchers is really like."