A Stalybridge drug dealer who sent a text just 24 hours after the murders of two police officers calling killer Dale Cregan a 'hero' has been jailed.
Lee Willis, 31, of Jacks Court on Clarence Street in Stalybridge, was sentenced to eight years in prison today for drug offences.
When Willis was originally arrested back in November 2012 and eventually charged, he told Tameside Magistrates' Court he had no links whatsoever to Cregan. However, when his phone was forensically examined, he was pictured with members of Cregan's family in a pub.
Officers also found a text that Willis sent to a friend, dated just one day after the murders of PC Fiona Bone and PC Nicola Hughes, which contained a picture of Cregan and underneath the text 'HERO'.
Detective Inspector Rob Cousen, of the Serious and Organised Crime Group, slammed the 'sickening' text message about his late colleagues.
He said: "The vile content betrays a sickening disrespect for the memories of two brave police officers and what he said speaks far greater volumes for what sort of man he is than I ever could.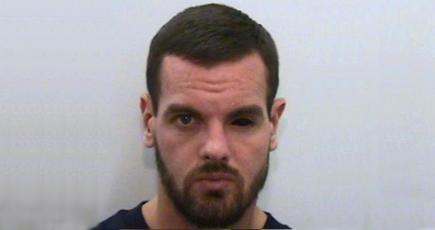 SICK TRIBUTE: Dale Cregan was hailed as a 'hero' by drug dealer Willis in a text
"Willis was the ring leader of this drug operation and, between himself and his acolytes, organised the supply and distribution of cocaine and cannabis.
"We have all seen the devastating effects that drugs can have on people's lives and it is people like Willis who propagate this market of death, creating an industry that leads to addiction, further criminality and in tragic cases death."
Willis went on the run in June 2013 after admitting to possession of a Class A drug with intent to supply, possession of a Class B drug with intent to supply and handling stolen goods.
He was due to be sentenced at Minshull Street Crown Court but did not turn up and went on the run – but was caught on New Year's Day 2014 and was jailed for eight years.
He will also be forced to repay £40,000 under the Proceeds of Crime Act and forfeit his BMW.
Willis was originally arrested following a raid on a property in Stalybridge along with three other men.
Bin liners of cannabis weighing 2.5kg were found with a street value of around £25,000.
Plastic bags containing white powder, drugs paraphernalia including debtors lists, £5,000 in cash and mobile phones were also seized.
"Rather than face up to his crimes, he chose to go on the run for six months. However, if he thought he could escape he was sadly mistaken," said Detective Inspector Cousen.
"Slowly but surely, we will demartyr these people and take away their criminal trappings and wealth, revealing them to be nothing more than drug dealers who will end up doing a lengthy stretch in prison.
"Greater Manchester Police is committed to dismantling organised crime groups from every angle, whether it be those at the top of the tree or just the foot soldiers.
"We will dismantle these empires brick by brick and taking someone like Willis out of the equation is one more brick out of the wall."