People have been known to air their dirty laundry on the internet especially on social media sites such as Facebook and Twitter.
But now a number of anonymous women from Manchester are bringing a whole different meaning to the term.
Warning: Explicit sexual and graphic content and images below.
Worn knickers are being sold on Craigslist, the hugely popular website providing local classifieds all over the UK.
One controversial seller, who calls herself the 'Ebony Goddess', is even selling her panties that are stained with her own cum.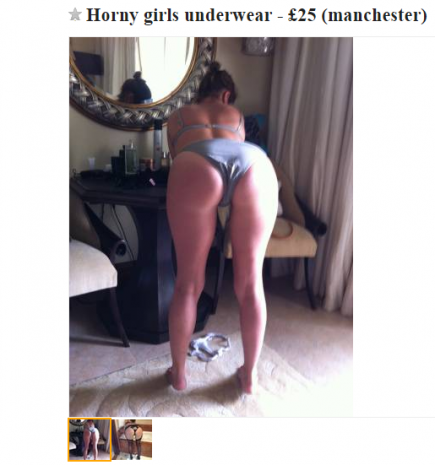 She is charging £15-20 for each piece of underwear, which can be paid over PayPal, and is offering free shipping all over the country.
Surprisingly, this is only the tip of the iceberg.
Another seller, who calls herself 'Jem', is a 29-year-old professional working in finance who describes herself as a curvy size 18.
She is selling her 'sweet smelling' knickers that have been worn for 24 hours at a price of £12 a pair.
Jem can also 'cater for other kinks', including coming in and SOILING her pants, and states that no request would shock her.
Plenty more females are offering their underwear, with another seller describing herself as a 'professional lady' working in Manchester at a high-profile company.
She is charging £10 for her worn panties.
She says: "I'm usually sat at my desk all day or in meetings for hours, then like to go to the gym on my way home so you can imagine how stinky my panties get!"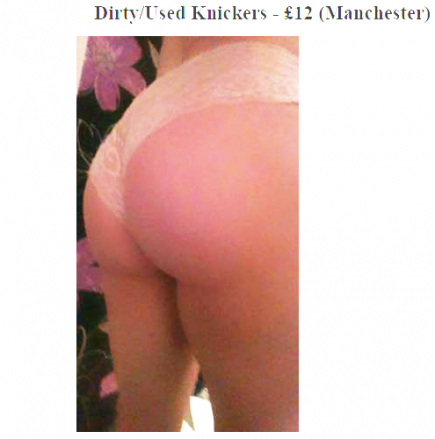 Another anonymous filthy underwear sales pitches on the website include: 
"35-year-old wife has Knickers available! I know there are a few guys who enjoy them, so mine are available. All I ask is that you cover my cost of them that seems fair to me, as I can't afford to give them away!!!"
"I am currently at uni in the city and looking to sell to you horny people my worn panties thongs and g strings… Happy to make myself cum in them before putting them in a sealed bag and discretely sending them to you along with a couple of very sexy pics!!!!!"
"Selling a lovely pair of dirty worn lace knickers, worn for atleast a full day before sending. treat yourself to these juicy panties!"
Whether or not these women are making a profit on their used knickers is unknown, but if you thought you already knew the seedy underworld of Manchester, then you can think again.
Main image courtesy of Andy Morris, with thanks.