Manchester may have been known as the 'London of the North' for many years but new statistics have confirmed what many here have always known – we're miles better than the capital.
Lengthy transport times, rocketing property prices, sky-high living costs – these are just a few of the gripes that Londoners complain of when asked about life in the alpha city.
On the other hand, Manchester is on the up, from the BBC relocating here to the city being home to the two most recent Premier League winners, as well as being a vibrant, exciting place to live.
In fact, the city is doing so well that it was voted Most Liveable City in the UK in the 2013 Economist Intelligence Unit survey.
Compiled by investment company Midas and comparison site Numbeo, below is a breakdown of ways your money will go further by choosing the Cottonopolis over London.
The average house in London will set you back £364,574, while choosing a property up North will cost less than a third of that, at an average of £104,285.
But which area should you adopt as your new home?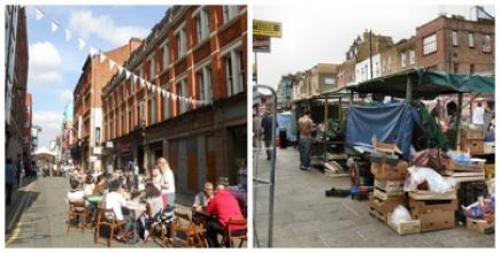 WHERE TO LIVE? Manchester's trendy Northern Quarter v London's Islington (pictures courtesy of Mikey and Alan Stanton, with thanks)
If you prefer a more urban lifestyle then perhaps the trendy Northern Quarter is up your street, situated just five minutes walking-distance from Piccadilly, where the average apartment is £127,664.
Compare that to London's equivalent area, Islington, where the same deal will typically cost £526,667, on top of £1,216 a year in travel fares, and you'll start to be convinced.
Or maybe another area in the city, Spinningfields, where an average of £173,416 will get you a pad within walking distance of the centre, in contrast to Canary Wharf's £356,925 plus travel costs.
However, if you are looking for somewhere more suburban then don't despair, as a terraced house in Altrincham can be bought for an average of £245,061, against £301,950 for the same deal in Wimbledon.
Even leafy Wilmslow, one of the wealthiest areas in the North West, holds its own, with a semi-detached house averaging £274,758, whereas in Haslemere it will cost £305,697 plus a difference  of over £3,000 in commuter fares.
Colin Stanbridge, Chief Executive of London Chamber of Commerce and Industry (LCCI), said: "A lot of the higher costs of living in London are pushed upwards by the law of supply and demand as the capital's population has grown by around a million over the last decade.
"Many of the world's most talented people are attracted to the unique and exciting social and cultural offer available to them in London but rising costs, particularly those associated with the spiralling housing crisis, do represent a risk to the capital's future competitiveness as a global centre."
So you've settled on a place to live, and now you need to get into town for work.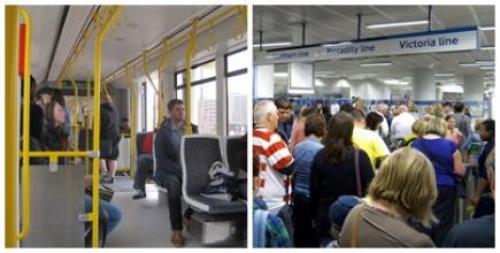 HOP ON HAPPY: Commutes in Manchester are less hassle than the capital (pictures courtesy of aspacuito and Tom Page, with thanks)
Despite London having the Tube and all of its obvious benefits, this pales when you realise that the average Mancunian's commute is 16 minutes less and when you arrive parking costs £2 less per hour.
So, if you work an eight-hour day and allow half an hour either side to get from and to your car, that works out at a saving of £18, or £90 for a five-day week.
When you've finished work it's always good to relax in a restaurant and enjoy a meal with friends, and you'll be glad to know that the discrepancies extend into prices for consumer items.
While food is generally evenly-priced across the board, drinks are where Manchester is in its element, with a domestically-produced beer costing £3 compared to London's £3.60 and bottled water up to 17.76% cheaper.
For those opting to stay in and cook, a bottle of wine will cost you an average of £1.26 less in Manchester while saving 20p on a kilo of rice, 15p on 12 eggs and 6p for every litre of milk.
Naturally you will need to burn off all those newly-affordable extra calories, so why not take advantage of the £21.51 you will save on gym membership, or take a walk in your new leather shoes, which happened to cost 31.99% less now you live up North.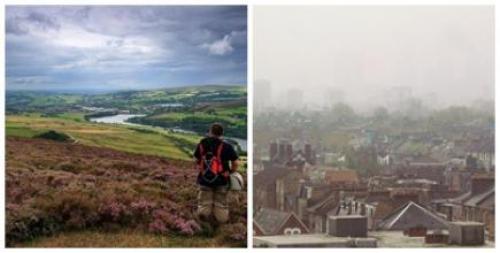 OPEN SPACE: Manchester has the Pennines on its doorstep (pictures courtesy of Rick Harrison and David Holt, with thanks)
Let's not forget utility costs neither. Every house needs gas and electric and Manchester edges the capital out again, with basic board rates of £144.02 for an 85m2 apartment against London's £149.50.
And if you needed anymore persuasion before settling down and bringing up a family, take comfort in the fact that Manchester child care costs average out at £41.17 a week cheaper than in London.
With that bit of extra cash you are free to enjoy everything the city has to offer, from the museums and bars to family walks in the Pennines – something that London has nothing to compare to, and are, of course, free.
View Midas' graphics below and see their original statistics here.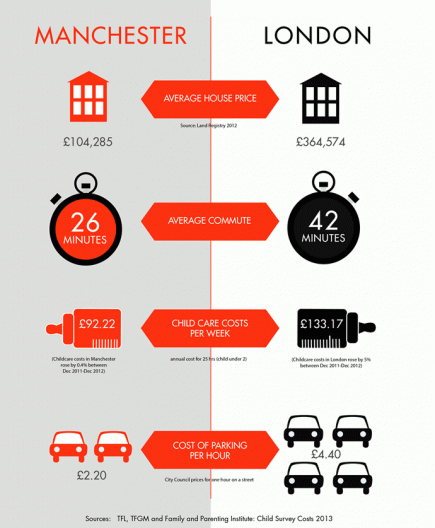 Graphics courtesy of Midas, with thanks.
Main image courtesy of Stacey Cavanagh, with thanks.