A coroner has castigated revellers as a 'disgrace' after they refused to speak to police investigating the death of an Oldham boy who plummeted 40 feet off a balcony during a riotous party.
Kyle Winterbottom, 16, lost his footing and fell to the ground during a 'foolhardy' attempt to clamber onto a third floor rail in a bid to climb down to the floor below.
The youngster – a talented rugby player, boxer, and swimmer – was taken to hospital but died later from multiple injuries.
Tests revealed he had traces in his system of ecstasy and ketamine – a powerful drug used as an anaesthetic by vets to sedate horses.
Witnesses described seeing Kyle with 'wide eyes' and a 'slack jaw' in the run up to his death in Oldham, Greater Manchester.
At an inquest, coroner Simon Nelson criticised other youngsters who attended the party after being told they were 'abusive and confrontational' towards police as they tried to find out what happened to Kyle.
Recording a verdict of misadventure Mr Nelson said: "One of the problems in this case was the distinct lack of initial co-operation from those who were present.
"No amount, be it a combination of either alcohol or drugs, excuses or condones the behaviour, and that behaviour was simply a disgrace.
"I do believe that there would have been certain individuals who would have been able to provide evidence to this inquiry and to the police, that would have filled the many gaps on the sequence of events that occurred prior to Kyle falling."
He added that Kyle had 'everything to live for' but that the drugs he took contributed to his tragic death.
"The drugs he took would have contributed to the taking of a risk which if he would have been unaffected, he simply would not have contemplated," he said.
"I can't condemn the people who supply the alcohol but those who supply the drugs do so with one purpose in mind, they want the money. They are the individuals who need to be brought to account."
The accident occurred in August 2012 after Kyle met up with friends at a house before going to a party in flats over two floors of the building.
Revellers at the first party had been taking drink and drugs and later Kyle – who was usually afraid of heights – was seen by a girl to have been 'swinging' on the balcony.
She claimed she and Kyle had a 'quick hug' on the balcony before he turned and tried to climb down to the lower floor. He slipped and fell as she tried to grab his right hand.
One of Kyle's friends Sean Dockerty, 20, who lived in the apartment where the second party took place, said he himself had already consumed three-quarters of a bottle of brandy plus eight cans of larger and a powdered substance called 'magic'.
In a statement read to the court he said: "At one point Kyle arrived at my flat and said 'are you alright' to everyone. He seemed really happy and alright."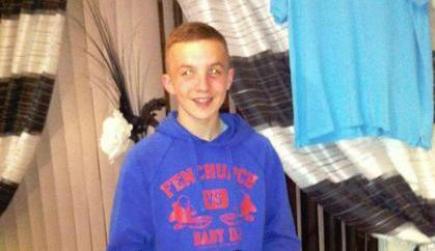 TRAGIC DEATH: Kyle was found to have drugs and alcohol in his system
He added: "All of a sudden everyone was running out of the flat. Someone said 'Kyle is dead'. I ran to the balcony and looked over, I could see Kyle on the floor.
"I threw up. I only glanced over the balcony for two seconds. I didn't know what had gone on other than what the others were telling me.
"Someone said Kyle had taken drugs but I didn't know what type. I have never been aware of him taking drugs so I didn't know whether it was true. Everything happened really fast and was a blur to me."
He went on to say that people had turned up at the flat uninvited and had heard that Kyle had had an argument with an unknown guest – but they had smoothed it over and there had been no ill-feelings amongst guests.
One witness described the scraping of Kyle's feet against the wall which suggested a desperate attempt by the teenager to get himself back in so that he would land in the balcony below before falling.
Toxicology tests revealed Kyle had been more than twice over the drink driving limit and had consumed MDMA and a compound of ecstasy which would have made him feel energised with hallucinogenic effects and visual distortion.
Officers investigated claims Kyle's drink may have been spiked with drugs but found no evidence of third party involvement.
Outside the hearing in Heywood, Kyle's mother  Joanne Kelly, 41, a cafe manageress said: "Kyle's death has been devastating for the family and I don't want any other youngster to end up like him.
"We are all devastated and there's lots of questions that have not been answered. Police have tried to help but the kids at the party were being abusive towards them and that is disgusting.  I don't care if they were drunk, it's no excuse."
She added: "I would say don't feel under pressure from your peers to take things when you don't know what you are taking. My Kyle wasn't always taking drugs – he wasn't like that – and now he's dead.
"Life is just not the same anymore. It never will be. I can't get my head around the thought that he's not here.
"He was just 16 – he would still give me a kiss when he was going out. It's heartbreaking. I will never get over it. I can never see past tomorrow at the moment."
Story via Cavendish Press