Charity campaigners invited Mancunians to score goals against extreme poverty and preventable diseases, ahead of the Conservative Party Conference coming to Manchester tomorrow.
The ONE Campaign set up a football net in Piccadilly Gardens to raise awareness about 17 new UN goals to eradicate extreme poverty by 2030 through international aid.
The charity, which works with parties across the political spectrum, will hold a reception with International Development Secretary, MP Justine Greening, and poverty campaigner, Bob Geldof, during the conference.
Speaking to MM, UK Director of The ONE Campaign Diane Sheard, said the majority of British people back foreign aid – three in four believe Britain should 'keep its promises to the world's poorest people'.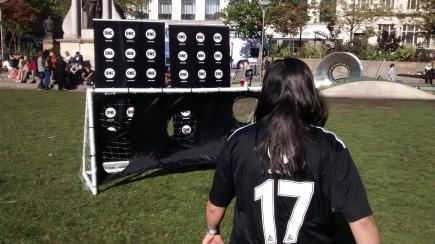 UN GOALS: The ONE campaign set up in Piccadilly Gardens to raise awareness of the bid to end extreme poverty
"This government has a very important part to play in getting us to the point where no one lives in extreme poverty by 2030," she said.
"Britain is a large economy, one of the richest countries in the world and we should be able to afford to do international development overseas, as well as spending here at home.
"British aid spending as a percentage of spending is tiny and does a lot more than people think."
The proportion of people globally living on less than $1.25 a day dropped from 36.4% to 14.5% between 1990 and 2011, however one billion people are still classed as living in 'extreme poverty'.
Speaking at the UN last weekend, Prime Minister David Cameron reaffirmed his commitment to an aid budget of 0.7% of GDP, urging other countries to follow Britain's lead. 
But the ONE Campaign is asking members of the public to write to their MP to ensure the government remains committed to overseas aid spending.
Ms Sheard said they wanted to encourage conversations about foreign aid spending and the UN's 17 goals, to ensure that the target of eradicating extreme poverty was achieved by 2030.
She said: "We don't think the goals can properly be implemented unless people know about them and hold politicians to account.
 "We are asking people for their voice."
Thirteen MPs from Greater Manchester have now signed a pledge to take action to help the world's poorest while they are in Parliament.
William Wragg, Conservative MP for Hazel Grove and signature to the pledge, said: "Britain's foreign aid budget is a testament of our nations good spirit and Britain punching above its weight.
"As a new MP I completely back any campaign to help others."