Serious crime at Manchester's three main train stations continues to rise despite the city's transport hubs seeing an overall drop in general incidents in the last year.
Each station recorded increases in at least one of violence, theft of passenger property, railway burglary and theft, criminal damage, cable theft and cycle theft over the previous year.
Following the 'selfish' vandalism  that sparked train chaos across the city earlier this week, MM investigate the crime rates of Manchester's busiest stations.
Recorded crime statistics, released by BTP via a Freedom of Information request, reveal that in all three of Manchester's stations, theft of passenger property has increased over the past four years.
In fact, Manchester's Victoria and Oxford Road stations record thefts for last year almost double that of 2010/11.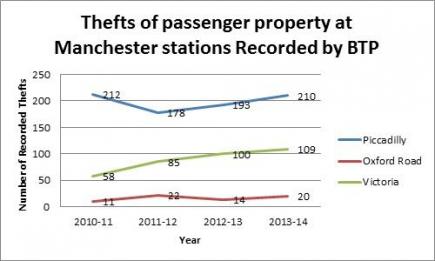 The variables that may have impacted such an increase may be one of: new technology such as smart-phones, lack of judgement or common sense of where a victim places a stolen item upon their person, or that some are finding the economic climate worse than in previous years.
Biggest of the three stations, Piccadilly, has the highest levels of crime with 806 recorded putting it ahead of Victoria's 306 and Oxford Road's 37, in the past year.
The figure of 806 recorded crimes, although high, is a reduction on the crime recorded at Piccadilly for the year of 2012-2013 (873), a drop of 2%. The overall level of crime at Piccadilly however has remained above 800 recorded crimes per year at an average of 825 crimes documented by BTP for the previous four years.
Despite this, commuters say they feel safe when using the stations.
Graduate Karl Grimes from Irlam, 22, said: "I used the trains a lot so to find out about crimes like that going up is a surprise. But I don't travel too far. It could be a bit of a wait for the next train if I missed it.
"I wouldn't say I ever felt unsafe, just looking once in a while or not playing music too loud and I'm OK."
Christie Holmes from Macclesfield, 42, a marketing agent said: "I only travel in rush hour so I don't see anything. The police are there so I don't worry; I've never had to. I never use stations late in the night.
"If anything it can be worse using car parks at night. At least in a station there's light and other people around."
Jayne Corby from Lytham, 53, who works in PR, said: "That's a shock if I'm honest. My trains can run late up to Lytham and Blackpool. It's a long trip and you can wait a long time for a train. But you can wait in the main part (of the station) here (Piccadilly) where the police wonder around.
"I've never been involved or know anyone has been in this sort of stuff. It wouldn't hurt to have police walking on the platforms and not just in this part (foyer)."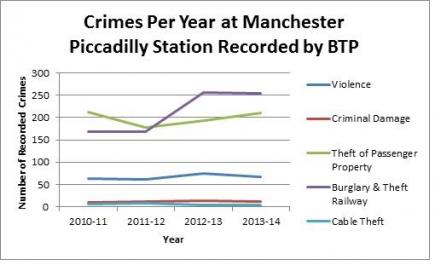 Cable and or metal theft has been reported nationwide to be a concerning issue for councils and rail companies.
However, crime statistics for Manchester Piccadilly and Manchester Victoria show low cable theft numbers and little or no increase; remaining low with Piccadilly and Victoria recording four and two crimes in the last year.
These figures reflect the documented crimes over the last four years with Piccadilly recording the same amount of cable thefts as 2012-2013, a drop of 50% to that of 2011-2012. However Victoria has been increasing over the last two years, albeit on a small number from one to two reported cable thefts.
No such crimes of cable theft have been recorded at Manchester Oxford Road station by BTP.
Violent crime statistics across rail stations in Manchester have suffered polarising results.
Piccadilly recorded a drop in violent crimes from their peak in 2012-2013 while Victoria recorded an increase of 14 violent crimes, increasing upon the previous record number in the last four years of 63.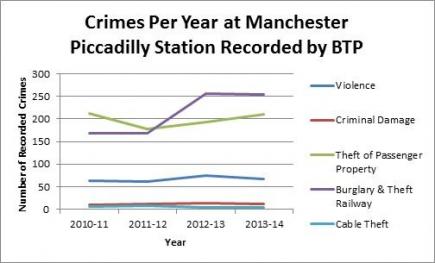 Manchester Oxford Road recorded the same level of violent crime as the previous year with six which is a 12.5% reduction on the 2011-2012 high of nine.
The total violent crimes recorded at each station in the last four years are: Piccadilly 266, Victoria 217 and Oxford Road 24.
The crime figures for Oxford Road are unsurprisingly low given the size of the station with the total recorded crimes over the last four years less than the number of recorded passenger property thefts at Piccadilly for the previous year.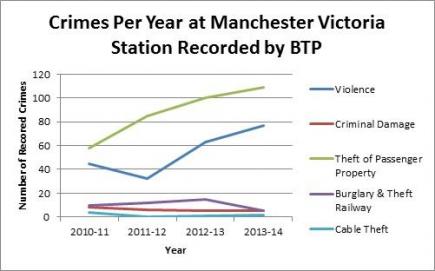 Like Piccadilly and Victoria stations, Oxford Road has recorded an increase in passenger property thefts with an increase of 9%(of the total 67 recorded thefts since 2010) on 2012-2013 numbers of 14 to 20 for this previous year.
Oxford Road has also seen criminal damage crimes remain at a constant level for the last four years with an average of one act of criminal damage each year.
In comparison, Piccadilly records an average of 12 per year while Victoria records an average of six per year.
Criminal damage is likely to include damage to shop windows, bins, benches and the like but not graffiti which increased at both Piccadilly and Victoria stations by 15% & 33% in comparison to 2012-2013.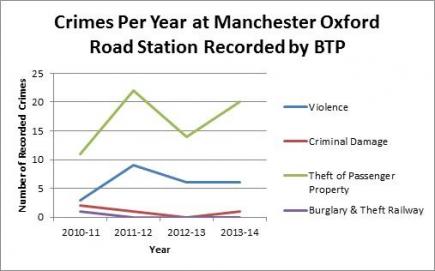 Only Oxford Road has recorded a decline in cycle theft crimes from 2012-2013 while Victoria and Piccadilly both report, on average, 12 and 36 cycle thefts per year.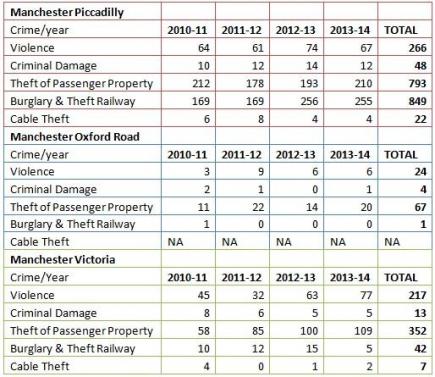 Chief Inspector Graham Bamford told MM that work was being done to drive crime down across the region's train stations.
He said: "Overall crime at Manchester stations is relatively low. However, we are aware that reports of general crime, particularly theft, at Piccadilly and Victoria stations remain substantial and my officers, in partnership with rail staff, are working to ensure passenger safety and increase awareness.
"Last year we launched Operation Magnum as part of a nationwide crackdown on the theft of passenger property on the railway."
BTP has set up a dedicated website to assist the travelling public in spotting tricks that criminals use: http://www.btp.police.uk/theft
Picture courtesy of Abhijit Tembhekar, with thanks.