Labour's grip on Rochdale Borough Council remains vice-like despite a challenging eight months for the party.
The party retained 16 of their 17 seats up for election last night, their only defeat coming to the Liberal Democrats in Milnrow and Newhey.
Their overall control is resounding, 46 of 60 wards represented by Labour councillors, three by Liberal Democrats and 10 by Conservatives, who held all three of their seats.
Led by Allen Brett, the council have taken several body blows in recent months after former leader Richard Farnell resigned after a child abuse cover-up.
Brett came out in support of Farnell before he was shown to have lied to a public inquiry into child abuse at Knowl View School in the 1990s.
In January, he was referred to Labour's independent standards committee after being overheard saying he would purposefully not spend money in wards they lost to the Tories.
"The campaign has been hard and we're very disappointed by the turnout," said Brett, as only 31.25% of the electorate used their vote in Rochdale.
"That's because there isn't any opposition to Labour in a lot of wards. It's worrying for democracy.
"In the party I represent, there are lots of young people engaged in politics and more of them have been so tonight."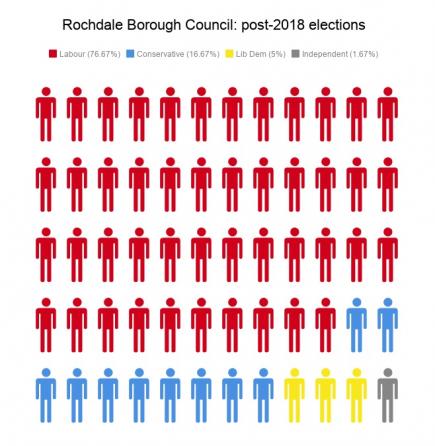 'HELD BACK' BY MAY'S FRONTBENCH
Their closest shave came in Castleton, where Aasim Rashid staved off the unexpected challenge of Tory youngster Michael Cullen by the fine margin of 41 votes.
Concerns early in the evening at Heywood Sports Centre centred around seats such as Healey, Rochdale Central and Hopwood Hall.
But council cabinet member Kieran Heakin, Carol Wardle and Sultan Ali romped home in these contests, the latter with over 2,000 votes.
After Labour's crisis-ridden term, Conservative leader Ashley Dearnley was disheartened not to press home the advantage at the ballot box.
"It's been a disappointing night, despite the gains we've made in terms of votes and the seats we held," said Dearnley, a councillor in Wardle and West Littleborough.
"The situation with Theresa May's frontbench hasn't exactly helped and we've been held back by that to a certain degree.
"We're a strong second, the Liberal Democrats are absolutely nowhere in third, and we're also particularly pleased with the performance of our young candidate in Castleton."
Andy Kelly, Liberal Democrat leader, looked askance on Dearnley's claims his party aren't mounting a challenge.
Just spoken to Labour council leader Allen Brett. Says turnout figure is "disappointing, no, more than that, bad for democracy." Thinks people have stayed at home assuming Labour will win.

No real concerns about losses and says no chance of nicking Bamford. #MMElections2018

— Tom Harle (@TomHarle96) May 3, 2018
"If you look at last year, we were a distant fourth, so we can play the numbers game if he wants," said Kelly.
"Ask the people of Milnrow if we're irrelevant. They've given us the ultimate show of faith in the ballot box. I don't know how he can say that."