A young cow was rescued from Bridgewater Canal in Worsley yesterday morning after being stuck up to its neck in water for hours.
The animal suffered exhaustion and hypothermia after it is believed to have become trapped in the water overnight before being freed by using a farmer's tractor shortly after 10am on Sunday.
Fire chiefs found the cow sinking slowly into the mud, leaving her up to her neck in water, exhausted and extremely cold when they arrived on the scene.
Watch Manager John Wildman, incident commander at the scene, said: "It would appear she had been there some time because she was absolutely exhausted and couldn't do anything to help herself or assist us to get her out.
"We fashioned some steps and a ramp in a bid to walk her out but she just didn't have the energy. In the end, we used a farmer's tractor to lift her from the canal. Our water incident unit is trained specially in large animal rescues of this type and have specialist equipment to help us."
@salfordfireteam rescue a cow after it fell into the Bridgewater @SalfordCanal pic.twitter.com/DaLarWJDey

— belinda hastie (@beewriter) August 3, 2014
The cow belonged to a nearby farm and had escaped from a field before wandering into the canal where boats are moored.
Station Manager Phil Hall said: "The canal itself is not very deep but because of her weight she was slowly sinking into the mud on the bottom.
"By the time we got there it was clear she had been there for some time and the water was up to her neck."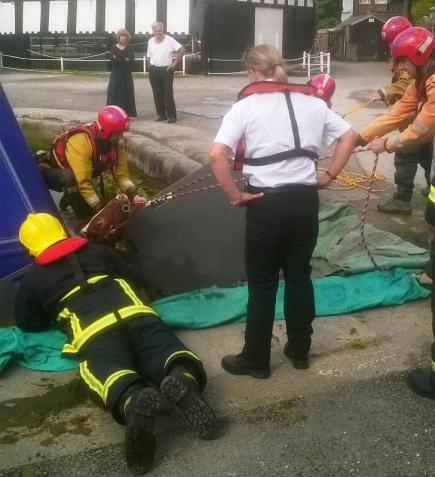 ANIMAL RESCUE: The young cow was exhausted and cold when it was rescued
Fire fighters from the water incident unit – which is based at Eccles Fire Station – used a mega pod to support the cow. An RSPCA inspector and a vet were in attendance to monitor the animal's welfare.
Station manager Hall added: "Once she was out of the water, we used some more equipment to get the cow onto the back of a trailer where she was seen by a vet and treated for hypothermia. The vet was hopeful she would make a full recovery but we don't know yet how she is doing."
The incident comes two weeks after firefighters rescued a pregnant cow from the River Irwell.
The animal had just arrived at Calrows Farm in Bury following a long trip from Denmark and celebrated her newfound freedom by sprinting straight into the water.
Image courtesy of Belinda Hastie, tweeting @beewriter, with thanks