The winning designer of the new Emmeline Pankhurst statue being erected in St Peter's Square says the legendary suffragette's unflinching dedication to women's rights was her inspiration.
Crowds turned out to watch on Tuesday as Hazel Reeves' design was unveiled at the spot where the statue will be on display.
The design – the only one so far to have been purchased at auction – came top of a shortlist of six to win the unanimous support of the panel of judges, as well as the majority of public votes.
The statue was designed to empower women and capture the courage and tenacity of Pankhurst as well as continuing the fight for equality for women, something close to Reeves' heart.
"It's not just another job for me, I bring a real deep political commitment to it," she told MM after beating Sean Hedges-Quinn, Martin Jennings, Amelia Rowcroft, Nick Roberson and father-daughter team Steve and Roxy Winterburn.
"It was a tough competition: any of the other sculptures and designs would have made Emmeline proud so I feel rather lucky that I squeaked in and got the vote.
@HazelReeves and Rise Up Women the winning design for the #EmmelinePankhurst #Manchester statue. pic.twitter.com/v6dRskHab9

— Our Emmeline (@OurEmmeline) 4 April 2017
"It's rather unique to be a sculptor and have worked on women's rights and gender equality for many years," added Reeves, who has previously been involved in fighting for women's rights with the UN.
"So for me, as an artist, I really enjoy telling stories of struggles for social justice and women's rights – and to address the balance of the lack of women represented in public art and to challenge gender stereotypes.
"Emmeline is a hero of Manchester and the suffragette movement."
The winning model, titled 'Rise Up, Women', features Emmeline standing on a chair.
And our sculptor is .. @HazelReeves pic.twitter.com/BJmMA6qTq7

— Our Emmeline (@OurEmmeline) 4 April 2017
"Emily was only five feet tall so she would then be elevated above the crowds to hear her cries, 'rise up women, demand your right to vote'," said Reeves.
"It's very exciting that in 2019 she will be back on Manchester's streets urging women to rise up, use their vote, and use their voice."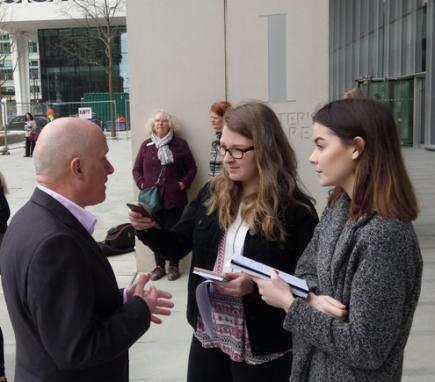 SMALL YET MIGHTY: Andrew Simcock chats with MM's Rebecca and Emelye (right) about the winning sculpture
Andrew Simcock, chair of the Emmeline Pankhurst Statue Campaign, said the small sculpture had wowed the panel.
"This statue really captured Emmeline's grace and fragility, but at the same time really projects her power," he told MM.
Simcock has been fighting for a female sculpture since 2014 when he questioned why there was a lack of female statues present.
"I thought right, if ever I get the chance to do something about this, I will.
"So here we are, three years later, two years away from the statue being erected."
Though the design has now been selected, the work has only just begun for the campaign, as the statue will be unveiled on International Women's Day in March 2019.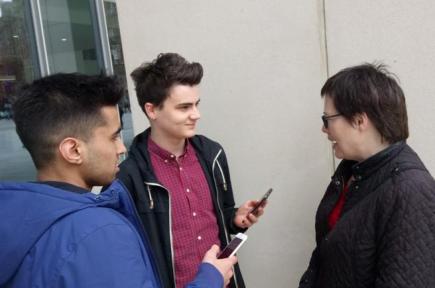 A FITTING STAGE: Hazel Reeves braves the winds while chatting with MM's Oran and Amrit (left)
On top of the statue, the creation of the sculpture will be accompanied by an education programme that will explore the legacy of Pankhurst and the Manchester Suffragettes.
This campaign will begin in 2018, which marks 100 years since the 1918 act to give women the partial vote.
As the statue will not be paid for by Manchester City Council, the £200,000 needed will have to come from donations given by corporate entities and crowdfunding.
The campaign is also hoping to get funding from a government plan to give £5million to projects focusing on the 1918 act.
The idea behind the statue is to increase representation of historical female figures in Manchester, as only one of 17 existing statues is a female figure: Queen Victoria in Albert Square.
"There are also going to be new gardens here so people will be sitting around, making this place more of a stage for her so that she isn't lost amongst these tall buildings," added a smiling Reeve.
"People can come along and use it as a point of meeting to celebrate key figures and reflect on their and Emmeline's legacy.''