Manchester cyclists are gearing up for an awareness campaign with a difference… as they prepare to ride round the city completely NAKED. 
North West's leg of World Naked Bike Ride Day, which in previous years has seen up to 100 cyclists ride around in the buff, kicks into action on Friday, June 6.
As well as voicing its concerns on how modern transport is affecting the environment, the globally celebrated event is also a fun chance for riders to promote body confidence.
Those taking part are asked to meet at All Saints Park on the Western Side of Oxford Road at 6pm to commence the ride at 7pm.
Casual naked bike ride in Manchester pic.twitter.com/k4LjKz3WVX

— Jorja Rawsthorne (@xjorjax) June 14, 2013
Naked bike ride through Manchester #WhyNot pic.twitter.com/YmJacRBf2Z

— James (@JamesBradford95) June 14, 2013
Manchester Ride Co-ordinator Sean Fitton told MM: "The idea was to come out cycling to show how vulnerable a cyclist is on the roads and to also promote body positivity in a fun way.
"This is our 9th ride and it was going on a couple of years ago around the rest of the world.
"We get a complete age range of riders from 18 years of age upwards and nobody has to get naked to be frank you could wear a bee keep's outfit we don't really care.
There are lots of people who are hard core nudists but really it's the riders, once you've got enough naked people for the shock value you want riders. It's all about raising awareness."
Police are warning people who may find scenes from the event offensive to stay away from the city centre between 6-8pm.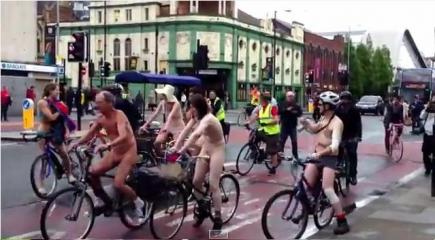 BUFF RIDE: Naked riders take on Oxford Road, Manchester (image courtesy of Aaron Allen, with thanks)