From designing their own playing shirt to walking out at Twickenham during England's Six Nations next year, students from Manchester are learning that rugby is so much more than a game.
Launched in 2012, the CBRE All Schools programme has been developed by the RFU to increase the amount of rugby in schools, encourage new players to join local clubs and create a positive legacy through the sport and its core values.
One element is the running of bespoke kit design workshops, delivered by official partner Canterbury and run in conjunction with the RFU for every school in the programme.
Not only do pupils get the chance to design their own rugby shirt but they are also invited to attend England's Six Nations match with Wales at Twickenham on February 10.
Manchester Enterprise Academy Central, Manchester Communication Academy and Parrs Wood High School are three of 100 new schools taking part in the workshops in September and October, and lucky students headed to Bury RFC on September 20 to get to grips with their initial shirt designs.
Jonathan Caslake, subject leader for P.E. at Manchester Enterprise Central Academy, said: ""The students found it great – we're a brand new school, so there's only year sevens at the moment. This is our first ever rugby kit, it's an opportunity for us to build some heritage, some history.
"A lot of the other schools have been around for a while, and the students loved the idea of being the first and be able to put their impression into that shirt.
"Our design had the Manchester bee, which had become even more synonymous recently, and as part of that induction, and trying to inspire the kids, we changed it to the Manchester Enterprise Academy bee and what we stand for, what our values are.
"We're brand spanking new, we're barely a month old, there is no history of anything, so they are creating history and setting the benchmarks, which is amazing for them.
"It's a really interesting project to get involved in, in an area which is dominated by football, the uptake and the number of children asking about it because of the programme is really good."
The workshops, which build team spirit and boost creative innovation, see pupils given unique freedom and opportunity to design their school's shirt, which could be worn by their school's rugby team for many years to come.
It forms part of the CBRE All Schools programme which aims to take rugby into 750 state secondary schools by 2019.
Steve Grainger, RFU Rugby Development Director, commented: "CBRE All Schools aims is to give as many young people as possible the chance to enjoy all that rugby has to offer.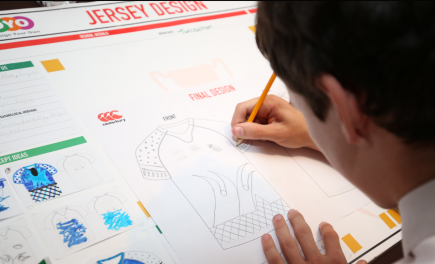 PICTURE OF PRIDE: A school student puts his all into kit design, something RFU rugby development director Steve Grainger sees as integral to the All Schools programme
"Designing their own school kit is an integral part of the programme and helps students understand more about the history, heritage and core values of our great game.
"The kit design workshops, thanks to great support from Canterbury, help the schools understand the pride associated with the shirt and I am sure that these new school teams will feel the same pride for their own shirt as our teams feel when they put on the England shirt."
CBRE All Schools supported by Canterbury is one of the RFU's key legacy programmes, set up to increase the number of state secondary schools playing rugby union in England. Visit www.englandrugby.com/allschools to find out more.