Celebrity chef Simon Rimmer will host round two of the gut-busting food challenge with a pie-normous competition at Robinsons Visitors Centre in Stockport.
The American cult culinary TV series, 'Man Vs Food' may be no more, but the ravenous town of Stockport has seen a revival of this excessive extravaganza.
After being faced with a monster burger in round one in December, hungry competitors will now face a pie-hard challenge, devilishly concocted by the TV chef and restaurateur alongside Robinsons Development chef Christian Whittle.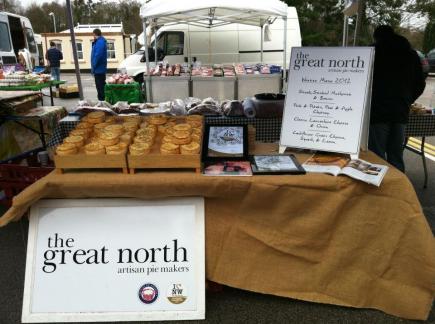 SET UP SHOP: The Great North Pie Co display their home-made pies
 
"We've devised a menu that will push our competitors to the absolute limit," said the Channel 4 Sunday Brunch chef.
"In round one we saw seven competitors walk away with the win; but I would be highly surprised if anyone can overcome the colossal challenge we have in store.
"Something tells me this next round will truly separate the men from the boys! It's a great excuse to celebrate the Great British Pie during British Pie week."
Food guzzlers will be given fifteen minutes to defeat the best the Great North Pie Company has to offer – four different pies designed to stretch the stomach and tastebuds to the limit.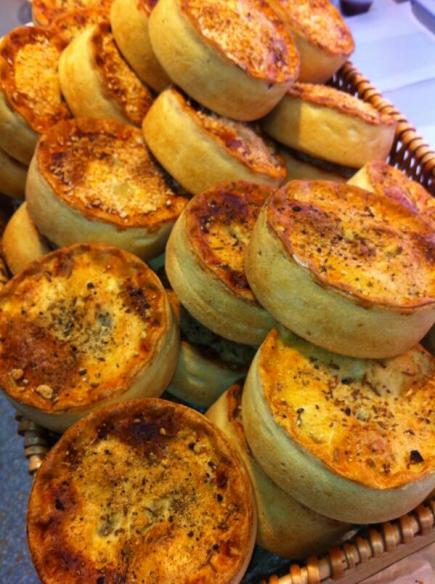 STOCKING UP: Chef has made plenty of pies in preparition
 
Contestants will have to wolf down the giant Great Northern meat pie, a luscious Lancashire cheese and onion, a fiery chilli-tom-carne pie made with Robinsons legendary Old Tom Ale and a delicious chicken and ale pie made with another Robinsons favourite – Dizzy Blonde.
Yet it is the spicy flavoured fiery chilli-tom-carne conception who Neil Broomfield, Director of the Great North Pie Company alongside partner Sarah Carey, believes may cause issues for competitors.
"I actually think some people will complete the challenge. I usually eat that amount most days so it wouldn't be a problem for me," the 35-year-old joked.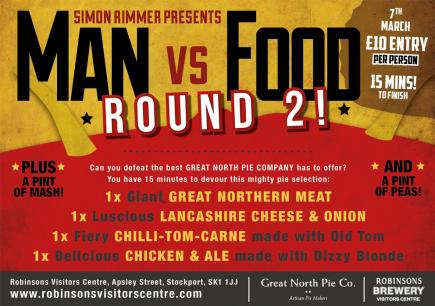 MAN ENOUGH? Challenge looks pie-on impossible 
 
"But I do think our fiery pie could cause some issues because it is so spicy but everyone is just going to have to throw themselves into the contest and really go for it.
And when asked which his favourite creation was the pie maker responded: "I love the meat one because we use Stornoway black pudding which is delicious."
"It has a peppery kick to it so unusually we actually mix hob nob biscuits in the recipe as well because the sweetness balances out the flavour."
After demolishing the large pastries, contestants will also have to contend with a punishing pint of mash potato and a second of peas.
The challenge is far too humongous for Rimmer to stomach despite advice from the legendary American Man V Food presenter.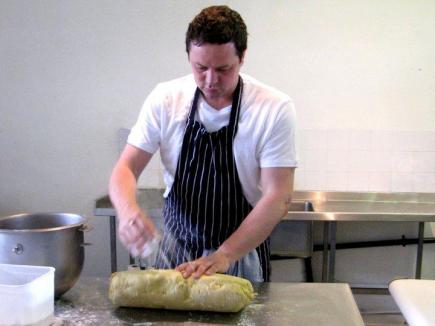 IN THE KITCHEN: Chefs get to work preparing the pastry 
"Adam (Richman) always says that with the big eating challenges you've got to keep going the digestive system going because the minute you stop the body goes into lockdown," explained the 50-year-old.
"But I could never do it! Just the sight of it makes me feel slightly nauseous. I just don't know how anyone does it."
On completion of the colossal challenge, the successful elite will get their meal for free; complete with a unique, money can't buy winners t-shirt with the fastest to clean their plate also winning their own height in beer.
The event takes place on Friday, 7 March 2014 at Robinsons Visitors Centre in Stockport.
Tickets are available from £10 per person with competitor and spectator places available. Spectators can scoff a regular sized version of the challenge menu for no extra cost (and with no time limit).
To book tickets call 0161 612 4100 or email [email protected]