Police have warned the public about the dangers of illegal gatherings after revellers used a live railway line for access to a rave outside Wigan last Saturday.
Attendees to the 300-person event on a farm near the border of Glazebury were seen on the tracks and disrupting the journey of a passing train.
Seven police vehicles were damaged in breaking up the gathering and a machete was found at the site.
Footage from a police helicopter has been released by Greater Manchester Police (GMP).
Assistant Chief Constable Nick Bailey said: "It was shameful to see so many in attendance and for groups of attendees to make their way onto the tracks of a live railway and put themselves in further danger.
"Not everyone attends these events with the same intentions; this was demonstrated by the recovery of a machete in some bushes at the site and it is fortunate that no further serious criminal activity took place.
"Now we are determined to identify and bring to account those who organised this event and who put so many people in danger by their reckless actions."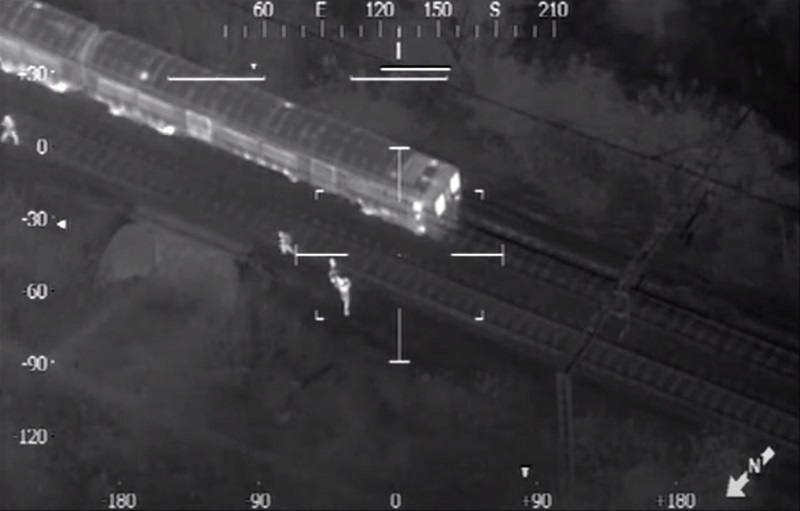 Police were alerted at 8.45pm on Saturday by the owner of the farm who had returned to the 320-acre site to find loud music being played.
Large amounts of litter were left at the site and damage was caused putting livestock in danger.
An investigation is currently ongoing into the organisation of the event and 25 people have been identified for possible further action.
Police across the country broke up a string of raves last weekend, including one in east London involving 1,000 people and one in Yate near Bristol with 500.
Earlier this year, a GMP chief constable said that quarantine raves at Daisy Nook and Carrington were almost impossible to stop after venues were changed at the last minute.
Under current lockdown measures indoor socialising between households is banned, while people can meet outdoors in a public space with one other person from outside their household.
Any information should be reported to police on 0161 856 3034 quoting incident number 3231 of 31/10/2020. Details can also be passed anonymously to the independent charity Crimestoppers on 0800 555 111.