Art-lovers from across Manchester are set to watch a collection of hand-picked artists attempt to create their very own masterpiece in under 30 minutes.
Ten artists will duel for the honour of being crowned the Art Battle III champion.
Never held in the same place twice, the 'underground live painting experience' will take place at Oxford Road's Contact Theatre on April 17.
Entering the arena for the first time is Tony Husband, the award-winning cartoonist behind the comic works which feature in Private eye and the Times.
Tony will have to fight off nine other contestants who will be working under the pressure of the clock to create an original masterpiece.

TAKING SHAPE: Ben Harrison puts finishing touches on his piece
Other contestants include street artist David Yarnell, who describes his work as 'Street dreams of a conspiracy nightmare', photographic painter Stef Trow and psychedelic dreamscape illustrator Lloyd Canning.
John Macaulay, creator of Art Battle Manchester, said: "We wanted to do something really special for our third event.
"We've always had a diverse collection of visual artists, but wanted to mix things up a bit and thought Tony would be a great competitor… he's the first cartoonist to take part.
"At Art Battle you don't have to have lots of artistic knowledge to have a great night," said Macaulay.
"That's the beauty of it – some of our competitors have been painting for years and others have only recently picked up a paintbrush. It's the same for the audience members; some have never set foot in an art gallery."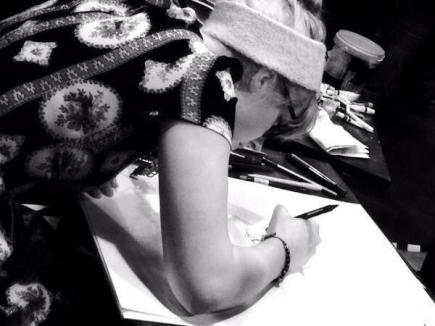 AGAINST THE CLOCK: Contestants have just 30 minutes to create their artwork
 
After the event the artists' creations will be put up for silent auction, with half of the proceeds going to the artist and the other half donated to charity.
A donation will also be made to the Contact Theatre.
For more information on Art Battle III, click here.
All images with permission of Art Battle via Facebook, with thanks.