'Bring back our girls' was the cry on the streets of Manchester last night as a Piccadilly Gardens protest attended by ex-Coronation Street actress Julie Hesmondhalgh marked a vigil for abducted Nigerian schoolgirls.
Around 230 girls were abducted at dawn from their boarding school in Chibok in the north-eastern state of Borno, Nigeria, three weeks ago – with eight more reportedly snatched on Sunday.
Islamist militant group Boko Haram, whose name means 'Western education is forbidden' in the country's Hausa dialect, have now claimed they are responsible.
Chairman of the Nigeria Community Manchester Ade Arogundade told MM: "It is unbelievable.  These girls are children. What have they got to do with politics for God's sake?"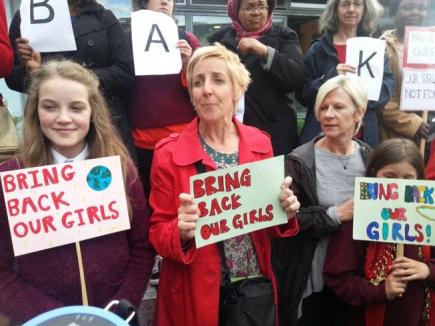 The extremist group led by Abubakar Shekau, which has been behind the deaths of thousands since 2009, has referred to the captured girls as 'slaves'.
They are threatening to sell them at markets and to marry off girls as young as nine.
Mr Arogundade said that Boko Haram were forcing Christian girls to convert to Islam, 'slashing the throats' of those who resisted.
He told MM: "We want America and Europe to rise up and do something about what has been going on."
US President Barack Obama has called the abductions 'outrageous' but many feel the international outcry has been much too long in coming.
Campaigner Carmen Peruga told the crowd: "If we don't stand up and do something, who's going to? I want these families to know there's people in Manchester that care.
"We will stand up and say 'I'm not having it'. It's a travesty."
Actress Ms Hesmondhalgh, who played Hayley Cropper in the ITV show, was dressed in red to show solidarity with the girls and their families.
She urged people to spread the word on Twitter and Facebook.
She said: "These girls have a right to education, they have a right to freedom and they have a right not to be enslaved."
Protesters claimed that the Nigerian government's failure to comment on the abductions for two weeks has aroused feelings of anger and prompted them to act.
The irony of the African country's security tightening this week in preparation for the World Economic Forum was also not lost on the protesters.
Colette Williams, who organised the rally, told MM: "The government pretended that 100 of the girls had come home at first.
"It shows the value they place on the lives of young girls but they want to spend how much on the World Economic Forum?
"They place little value on African people, particularly the lives of young girls in the poorer regions."
There was quiet as Ms Williams read out the names of the missing girls, the missing daughters and sisters. 
President Goodluck Jonathan's wife, Patience, denied the abduction had even taken place. She claimed  the reports were a political conspiracy to thwart her husband's presidential campaign.
Deyika Nzeribe, Chair of the Manchester Green Party, described the Nigerian government's initial reaction as 'business as usual' and said it was only since people had been aware of the issues overseas that there was pressure to do something about it.
He admitted however that the UK government had been almost silent on the issue too.
He said: "The leadership for this has come from people on the ground, no politicians.
"Only Gordon Brown has said anything and in a few weeks they'll be asking them to vote for us.  It's despicable frankly."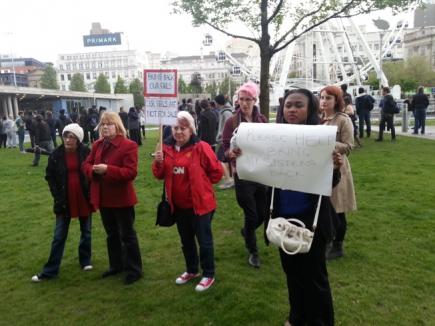 He added that it was 'really valuable' to have local people speaking out and said: "The reason there's the tension here is because these kids are still alive and where there's life, there's hope."
A second rally will take place in Piccadilly Gardens on Saturday 1-3pm with others confirmed in London and Liverpool. See individual events for dates.
You can sign the petition at: https://www.change.org/petitions/all-world-leaders-bring-back-nigeria-s-200-missing-school-girls-bringbackourgirls