Manchester Palestine Action (MPA) say they've witnessed a "sea of change on the streets" in the last two years as people are gradually "waking up" to the plight of Palestinians.
The group, formed in response to the 2014 Gaza conflict, erected a mock refugee camp in Piccadilly Gardens last month for Nakba day, the annual commemoration of Palestinian displacement.
In the build-up to the 70th anniversary of the Nakba this year, thousands of Gazans took part in a six-week long 'Great March of Return' where protesters camped near the Israeli border with some attempting to penetrate the fence, leaving dozens dead and thousands injured.
MPA member Adie Mormech criticised media outlets who described events at the Gaza border as 'clashes', calling their coverage 'high-level racism'.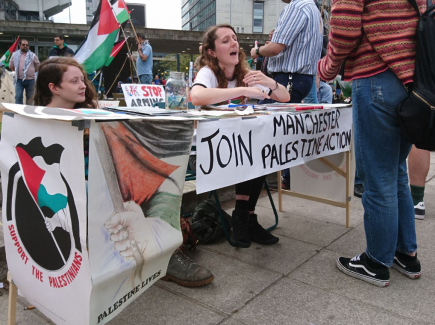 He told MM: "They are cheapening the lives of Palestinians and that's what I see day in, day out with this whole discourse."
Mormech said that solidarity for Palestinians has grown as people learn more about what is happening in the region but especially following the recent 'massacre' of protestors.
He said: "You can't justify ending the lives of people who obviously don't have freedom and are obviously subjugated.
"Obviously they have already lost loved ones from the bombing and obviously they had land and dreams and history and community behind that fence and they're not allowed to go there. This is outrageous."
LIKE OXYGEN
Mormech lived in Gaza for two years, teaching English Literature, Phonetics and some French at a university which was caught up in bombing during that time.
He said that due to tight restrictions on entry and exit, he was the only English teacher at the university in Gaza who was a native speaker.
"It is like oxygen when they get someone from outside to interact with."
The Leicester-born activist had attempted to enter Gaza several years earlier when he was on board a 'Free Gaza' boat, but ended up in an Israeli prison for a week before being deported.
He said that despite having lived in the region for a number of years, he has been confronted at demonstrations by people who don't believe him, calling it 'fake news'.
"There are always going to be some Israel supporters who are Israel whatever they do. I can literally show them pictures of my student who was killed and they still wouldn't bat an eyelid."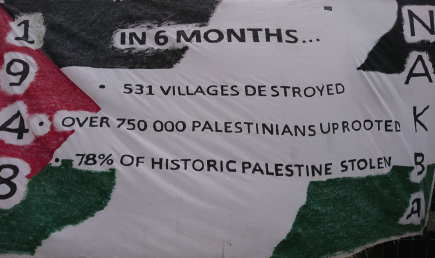 MPA are involved in a number of campaigns aimed at stopping arms being sold to Israel including one demanding HSBC to divest from all companies that sell arms to Israel by staging weekly protests at the bank's St Ann's Square branch for the last two months.
The group has also started campaigning in Oldham where they aim to raise awareness of the Elbit Ferranti factory in Waterhead which it says makes weapons for the Israeli army.
Mormech said: "Most people were disgusted at the fact they are actually making weapons for Israel and that there's an Israeli arms factory there."
"CRIME, NOT A CATASTROPHE"
He believes that it is important for people to understand what happened to Palestinians historically, which is the aim of events held to commemorate the Nakba, meaning catastrophe in Arabic.
He said: "I don't think it should be called a catastrophe. I think it should be called a crime. This was ethnic cleansing."
Mormech said that members of the group have been accused of anti-Semitism in the past but claims that this is a 'misappropriation' of the term which cheapens it.
When questioned about the decision to include 'No Anti-Semitism' in the group's logo, Mormech explained that the group comes from an anti-racist standpoint and that if they hear any form of racism they would 'jump on it from a great height.'
He said: "I think it is a statement just to remind everybody that it is about the Israeli state. It's not about a religious group. It is about what the state is doing."
Mormech believes that, although some in the Jewish community believe that being anti-Zionist is anti-Semitic in itself, the distinction between the two is 'crystal clear'.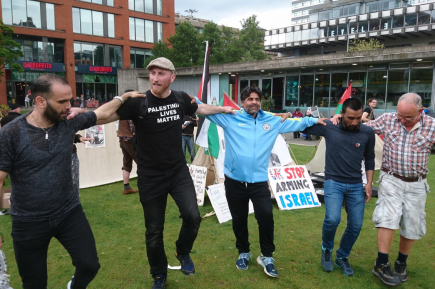 He claims that there is sometimes an attempt to try to morph the two by Israel supporters.
He said: "If we are saying that anti-Zionism is somehow a form of racism or a form of anti-Semitism then we are basically being utterly racist towards the Palestinians because you are dismissing entirely what happened to them."
Images courtesy of Manchester Palestine Action via Facebook, with thanks.