Labour's night appeared to be over before it had begun after BBC's exit poll – but at least they had something to shout about at the Manchester Velodrome.
Lucy Powell and Sir Gerald Kaufman successfully retained theirs seats – in Manchester Central and Gorton respectively – while Jeff Smith overwhelmingly ousted Liberal Democrat John Leech.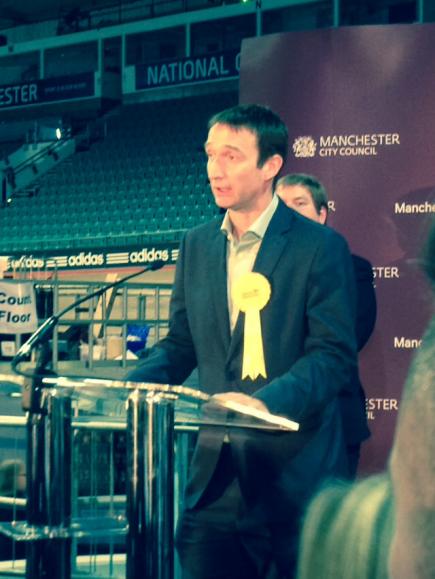 And it must be said that Leech, who appeared to be absent throughout the night until the declaration, was a far from gracious loser when he took to the stand.
"We couldn't have done any more," he started (all okay so far). "We always knew it was going to be a tough election.
"Having gone into a coalition government with the Tories, we've paid the price for sorting out the mess that we've inherited."
Cue the boos.
Leech was understandably downcast, but he then took to blame the media, while surrounded by a media huddle, for not offering the Lib Dems a 'fair crack of the whip during the campaign'.
He cut a sore-looking figure for the half an hour he was on show, and his demise after ten years at the helm somewhat typified his party's night.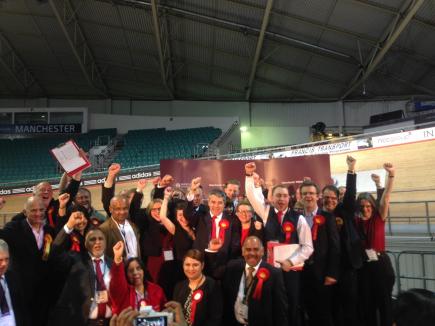 But what of our winners. Powell, who has been so close to Ed Miliband throughout the campaign, could afford a smile as the announcements came in despite the news flooding in from around the country.
"It's been a tough night for Labour," she said, "but Manchester has shown a clear opposition to this Tory-led coalition."
Powell won with 27,772 votes, miles ahead of Conservative's Xingang Wang (6,133) in second and Myles Power (5,033) for UKIP.
Meanwhile, Kaufman spoke of his 'immense pride' and 'love for his constituents' after receiving his greatest majority in 45 years.
Kaufman won by more than 24,000 votes, ahead of Laura Bannister for the Green Party, who beat the Conservatives to second place.
A final word from Smith, the new MP for Withington, who was understandably all smiles after winning 26,843 votes to Leech's 11,970.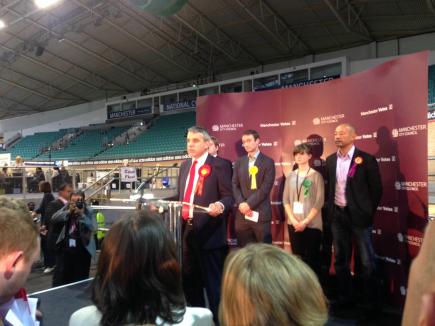 Smith spoke of his immense pride and was thankful for the support he had around him. But what does the next day bring for the new Labour MP?
"I haven't even thought about tomorrow," he told us. "I'm just looking forward to some sleep."