George Osborne has announced that £3million will be invested in an exhibition space at the Museum of Science and Industry 'to inspire generations of scientists and engineers'.
The investment will take forward plans to convert the basement of its 1830 'first ever railway' Warehouse into a venue to deliver 'ground-breaking exhibitions' that could tour the international stage.
The Chancellor made the announcement this morning at the official launch of European City of Science 2016, attended by the city's leading scientists and business figures, including Professor Brian Cox.
In reference to further investigation into miracle-material graphene's uses, Mr Osborne told the conference: "Let's keep discovered in Manchester, made in Manchester."
Prof Brian Cox @OfficialUoM: 'investing in science is crucial' @voiceofmosi pic.twitter.com/z2GxnbcANp

— graphenemanchester (@UoMGraphene) December 8, 2014
Great news for science in Manchester today with additional funding announced from @hmtreasury for our new exhibition space.

— MOSIManchester (@voiceofmosi) December 8, 2014
Speaking at the launch, Director Sally McDonald said: "This new exhibition space will allow us to deliver innovative exhibitions that will further enhance the city's reputation for cutting-edge science.
"The Government's invaluable financial support means we can do more to feed the enormous passion for science in the North West, serving our annual audience of more than 700,000 visitors and motivating more people to explore both the science and extraordinary heritage on offer at our Museum.
"In future, with the support of our partners, we want to develop ground-breaking exhibitions that can tour internationally, shining a global spotlight on our collections and our great city of Manchester."
Great news for Manchester and @voiceofmosi from @George_Osborne this morning in the 2016 city of science pic.twitter.com/Mr5CjgRsUk

— Roger Highfield (@RogerHighfield) December 8, 2014
This news comes after the Chancellor disclosed plans to establish a major new research centre in Manchester.
The £235million research centre will build on two centuries of innovation in developing materials that have upheld Manchester's rise as one of the first globalised industrial cities.
Sir Richard Leese, the Manchester City Council leader, previously spoke to MM of his delight with the plans.
"This is a momentous announcement for Manchester and the UK, which underlines the University of Manchester's world-class credentials," said Sir Richard.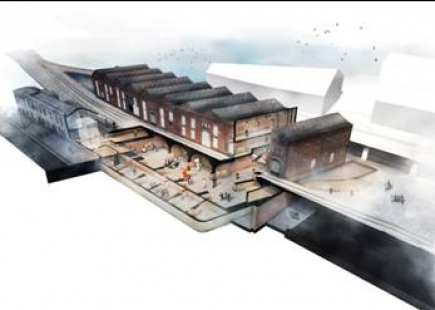 'MASSIVE STEP FORWARD': Plans for the £3million exhibition space at MOSI
"It adds significant momentum to the city's major role at the leading edge of global advanced material research.
"The potential for the applications of such materials is vast and they will play a major part in realising the economic potential of Manchester, Greater Manchester and the North as a whole."
In his Autumn statement, Mr Osborne lauded the investment as a 'massive step forward' for the North of England.
"A few months ago there were no proposals for major scientific institutions in the North of England," said the Chancellor.
"Today, we commit a massive quarter of a billion pound investment in a new institute for advanced materials science in Manchester, with branches in Leeds, Sheffield and Liverpool."
The Prime Minister, David Cameron, recently argued that in order to enhance England's economic competitiveness in 'the global race', maths and science should be the priority for English schools.