The 'terrifying' moment a machete and hammer-wielding gang of four men, who 'steaked out' an Urmston McDonald's and stole more than £1,000, has been caught in CCTV footage released by GMP.
Police hope releasing CCTV of the attack will assist investigations into the incident.
The video shows in detail how events unfolded at the Neary Way McDonald's restaurant at around 8pm on Saturday December 13 2014.
Staff were forced to open tills and safes, before depositing the contents into a black hold-all.
Once they had taken the cash, the 'ham-burglars' exited and made their way towards the Shetland Way housing estate.
Detective Constable Amanda Tootill said: "These men were organised, well prepared and knew exactly what they wanted to do.
"They were armed and used terrifying threats to achieve their aims, using the machete and hammer to scare the staff into following their orders.
No staff-members were hurt, but those involved are understood to be shaken by the experience.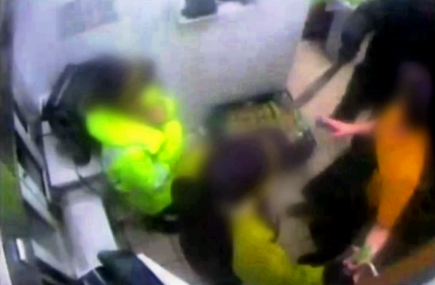 'TERRIFYING' THREATS: Staff were forced to empty tills and safes by the machete-wielding gang
The four men were all wearing dark-clothing and balaclavas. One is described as white, six feet tall. Another is slightly shorter than the first, with a stocky build and was carrying a hammer.
A third offender is said to be white, around six feet three inches tall, was wearing bright blue trainers and carrying a machete.
Anyone with information is asked to call police on 101 or the independent charity Crimestoppers on 0800 555 111.