A whopping 20,000 runners completed the ASICS Greater Manchester Marathon on Sunday.
This year's 26.2 mile route took the runners to Altrincham and back as over 60,000 spectators cheered them on.
For the first time, the 'friendliest marathon' hosted a Marathon Eve Meet-Up on Saturday 6th to provide information and moral support for the runners.
At the event on First Street, inspirational speakers gathered to tell their stories and marathon experts shared their top tips for running the second largest marathon in the UK. There were talks throughout the evening with topics including injury prevention, pacing and overcoming adversity.
Brendan Rendall, from Salford Quays, started running in 2006 after a bet to run the Wilmslow half marathon with no running experience.
"I lost myself on the Manchester club scene and my life for ten years was a cycle of self destructive behaviour," he said.
"I remember crossing the line and thinking that I'm actually good at something.
"That was the start of this new life of ten years of adventure and travel."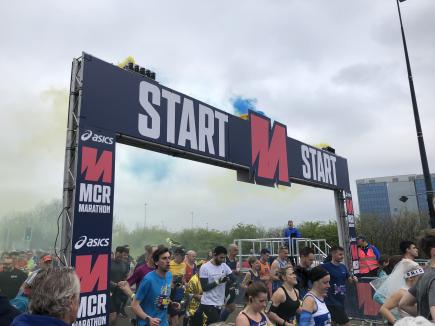 The teaching assistant has raised over £90,000 after running an epic 4000 km across Africa in 2018 to raise funds for Preston-based charity Friends of Mulanje Orphans.
After turning his life around, the former 'party monster' will now run the full length of Africa, from Cairo to Cape Town, next year.
"I just hope that my story reflects that I'm just an ordinary person and we can all achieve extraordinary things," he said.
Known by those in marathon circles as 'The Godfather,' Steve Edwards, from Gloucestershire, hopes to become the first person to complete an astonishing 1,000 marathons, all under 3 and a half hours.
"I ran by first marathon in 1981 and at the end of it, I vowed never again," he said.
"Fortunately, the euphoria exceeded the pain of actually running it."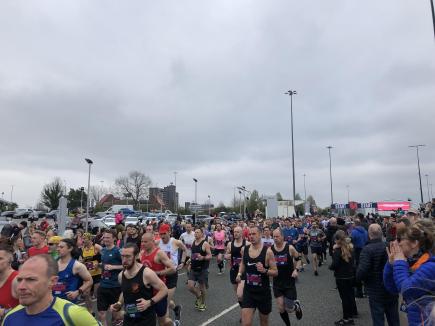 In the late eighties, Edwards became the youngest person to run 100 marathons. He went on to break several world records in multi-marathon running and the Greater Manchester Marathon will mark his 863rd official marathon.
"I once ran 87 marathons in a year which was a world record at the time.
"I also set the first ever world record for the fastest 10 marathons in 10 days in Cumbria," he said.
Speaking about his five day a week training routine, Edwards said: "It's hard to fit it all in but luckily, I have a very understanding wife and it's great to have that support behind me."
The Marathon Eve event also unveiled the new 2020 route section. The three-mile loop will take in the city centre for the first time and showcase some of Manchester's most iconic landmarks including the Opera House and The Midland Hotel.
The next Greater Manchester Marathon will take place on Sunday 5th April 2020 with registration already open.