The family of murdered Manchester PC Nicola Hughes are set to commemorate her life with the launch of a fund in her honour tomorrow.
The official unveiling of the PC Nicola Hughes Memorial Fund will take place at Old Trafford Football Stadium and the charity aims to provide assistance to children who have lost a family member through violent crime.
The fund will offer affected children educational and employment opportunities that may otherwise be lost to them.
The murder of PC Hughes and partner PC Fiona Bone sent shockwaves through Manchester two years ago.
Nicola was just 23 when she and Fiona attended what appeared to be a routine burglary call in Hyde on September 18 2012.
They killed in a gun and grenade attack by Dale Cregan, who was on the run after being accused of the murder of a father and son in Clayton earlier in the year.
Since her death, Nicola's father Bryn has committed himself to honouring his daughter's memory through the charity.
The charity's manifesto is simple. They want to make sure that doors aren't closed for children who have suffered bereavement.
When a parent dies the income of a household is often halved. Many children feel they have to go to work rather than continue with their education, in order to support their family.
The PC Nicola Hughes Memorial Fund aims to work with universities to establish free places for children who have suffered violent bereavements.
They also work closely with businesses and local rotary clubs to set up apprenticeships and placement schemes.
For Bryn, it is a charity that would mean a lot to Nicola, given her caring nature.
"There are charities that take children on Disney holidays or buy them iPads," he said.
"That's fine, but their life still won't be the same after a two-week holiday.
"We want to give them an opportunity to further themselves in life.
"If Nicola could have picked a charity to support, she'd have picked this one. Helping people was something she had always done."
Bryn explained that as well a generous, Nicola was also wise beyond her years.
"How can I describe her? For somebody so young, even from an early age, she was wise and switched on," he told MM.
"It was like she had been here before. She was 23 when she died – but she could have been 53. She was intelligent and smart but she could be girly too.
"I'd read her school reports and often think 'bloody hell, is this my daughter they're talking about?'
"They always said how mature she was. They were describing her as a 30-year-old – but that 30-year-old was my daughter."
Bryn was not surprised when his daughter joined the police force.
She originally studied sociology at Huddersfield University – but after a visit from criminal psychologists she decided to switch career paths and applied to join the police.
"She had always been caring," Bryn continued.
"Our next-door neighbour-but-one was one of the first female police officers in Oldham. Nicola came home one day and said to me 'you need to go next door and help her change her lightbulb.' She was always doing little things like that."
"I had a day off from work and Nicola came home and said she'd volunteered me to help out at a swimming group at her school.
"One of the boys had special needs and he needed assistance. I was CRB checked so Nicola had volunteered me to go so he didn't miss out.
"When I got there the next day, the headteacher said 'thank you for volunteering – you've got 26 boys here and you're looking after them!'
"Then on the last day of school the kids were going on a cycling trip and she volunteered me to supervise them.
"I ended up cycling 26 miles with them – I couldn't sit down for days!"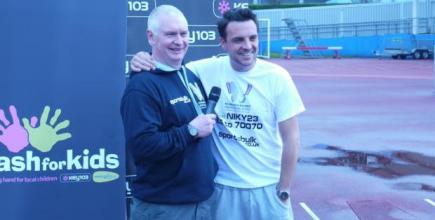 REMEMBRANCE: Bryn Hughes (left) has undertaken many challenges in his daughter Nicola's memory
The charity also has a deeper personal meaning for the family as Bryn saw first-hand the effect his daughter's death had on her younger brother Sam.
Sam, a promising karate prospect, was due to fight in regional championships just a month after Nicola died.
One of Bryn's main priorities was helping Sam to refocus and now he wants to help other children do the same.
He recently completed the North Pole Marathon, a gruelling 12-lap circuit in the North Pole.
"It was cold! When we started it was about -31 degrees and when the wind picked up it was about -38," he laughed.
"I ran 26.2 miles. We were running on soft snow, it's 24/7 daylight so you have no sense of time and it got very lonely.
"On the final laps, when it was getting really difficult, I could hear Nicola and Sam shouting at me to push on and complete the run.
"It's the sort of thing Nicola would have volunteered me for – 'oh, Dad, I've put you down to do a marathon in the North Pole!
"I think she would have been proud of me and that made it more special. I had frozen tears in my eyes when I crossed the finish line."
The launch night will be marked by a black tie dinner attended with more than 600 guests.
For more information, visit the charity's website or donate at the fund's JustGiving site.