Metal cylinders, once containing the potentially lethal 'legal high' laughing gas, that are littered across Salford by users are being transformed into a community art project by police officers.
Hundreds of these discarded canisters collected by Greater Manchester Police will be turned into decorative tiles by Beechfarm Estate residents in Swinton this summer.
The project aims to teach young people about the dangers of the substance, which can cause death, dizziness and nerve damage when abused.
Police Constable Iain Fletcher, a neighbourhood beat officer in Swinton, said: "We hope this arts project will help us educate the young people in Salford that the abuse of nitrous oxide is not as safe as they may think it is. "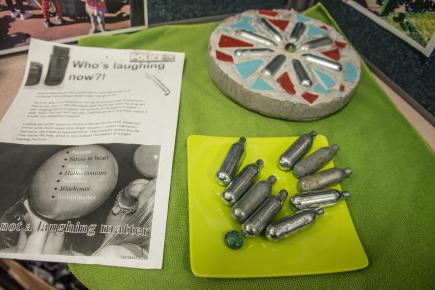 BLIGHT TO BRIGHT: The discarded legal high canisters will be turned into these colourful tiles
The abuse of nitrous oxide is becoming an ever more prevalent problem among children and young people.
PC Fletcher said: "Laughing gas cylinders can be purchased very cheaply on the internet and while it's not illegal to buy them the side effects can potentially be lethal and even if they feel okay now, they know don't what long-term damage they may be causing."
And it's not the first time that the Swinton community has found a novel use for drugs paraphernalia – last year they recycled and decorated cannabis plant pots recovered during a drugs raid which were used to brighten up the estate.
Lee Sugden, Chief Executive at Salix Homes, said: "Last year's cannabis plant pot project was a big success, so we are proud to be able to support this initiative once again and help educate young people in our communities about the dangers of this so-called 'legal high'.
"Drug abuse causes a blight on our communities and the misuse of laughing gas is a big problem at the moment, so we hope this arts project will make young people aware of the dangers and help us turn a negative into a positive by putting the remnants of drug abuse to good use."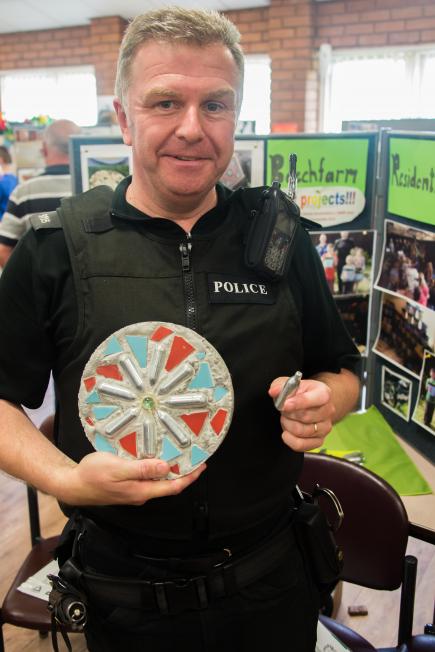 OUT IN FORCE: Greater Manchester Police have collected hundreds of these metal cylinders from Salford's streets
The project was founded with housing association Salix Homes and Beechfarm Residents Association and is being funded thanks to a £750 grant from Salix Homes through its 'Your Salix, Your Say' fund, which provides funding to projects and initiatives that will help improve neighbourhoods.
The artworks will be displayed in Margaret's Garden, a community garden on Kingsley Road.
For more information about drug and substance abuse or support Talk to Frank.