On a Sunday morning in September, the thoughts of most will turn to cooking a fry up as they nurse a punishing hangover from the previous evening's antics.
Not so in Ramsbottom this weekend, where black puddings – a staple of any respectable cooked breakfast – will be used for an entirely different purpose.
That's right, the World Black Pudding Throwing Championships return to the town on Sunday.
Picture this: patrons of the Oaks Pub step up to the oche, each paying £1 for three throws, to chuck underarm a black pudding at twelve Yorkshire puddings, set on a 20ft high plinth.
Each year the golden grid, the board competitors stand on as they prepare to throw, is brought in by steam train on the heritage East Lancashire Railway and paraded to the Oaks with bagpipes.
As if all this wasn't enough Bury's finest puddings, with a competition weight of exactly six ounces, are wrapped in ladies' tights.
The more versions of the pale Yorkshire imitation you knock down, the closer you get to winning the £100 prize.
The World Black Pudding Throwing Championships are in Rammy on Sunday! Remember, temp road closures/waiting restrictions in Bridge St area

— Bury Council (@BuryCouncil) September 8, 2017
It sounds simple, but lobbers from as far as Australia have tried and failed to master the art in recent years.
The legend goes back way beyond the 1980s, when the World Championships began.  
This tradition is inspired by a War of the Roses battle at nearby Stubbins in 1455, in which both sides ran out of ammunition and started to throw bits of food at each other.
If you're a bit raw and don't fancy taking part, the organisers are at pains to mention that the pig's blood speciality will be on sale at the event as well.
Pudfest, the annual outdoor music festival that always accompanies the contest, boasts Capital FM DJ and Ramsbottom native Wingman as its special guest and runs from midday with the first pudding throw at 11am.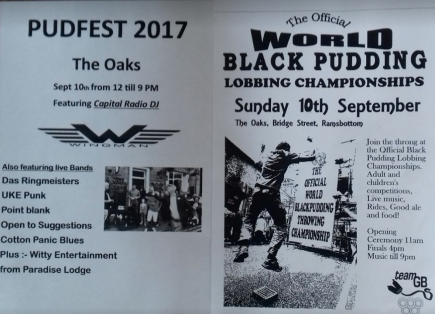 (image courtesy of Nicola Gold via Facebook, with thanks)
There is plenty of fun to be had for younger ones also with a junior competition running alongside the main event; this is set against a 10 foot plinth and with a prize of £20.
All of this means that there really is no excuse not to grab a slice of this legendary tradition. 
After something a bit different? The World Black Pudding Throwing Championships are in Ramsbottom this Sunday! https://t.co/2626sxj7EK pic.twitter.com/k6MzdN2IXx

— Visit Manchester (@visit_mcr) September 7, 2017
Image courtesy of ODN via YouTube, with thanks.